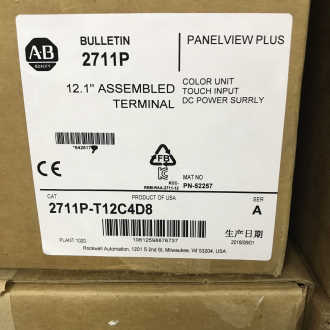 BASIC INFO
Allen-Bradley 2711P-T7C22A9P Panelview Plus 7 Graphic Terminals

Description: Allen Bradley Panelview Plus 7 Terminal, Performance Model, with a Touchcreen, 7 VGA, TFT Color Display, with One Ethernet Port, 100-240VAC Powered , Windows CE OS License, Pro Software, Performance Model
About 2711P-T7C22A9P
The Allen-Bradley 2711P-T7C22A9P PanelView ™ Plus 7 Performance terminals is a driver interface device. On an EtherNet/IP network, ControlLogix® and CompactLogix ™ 5370 monitor and control machines connected to controllers. The user can display the operating status of a device or process motion with the 2711P-T7C22A9P's graphics and text displays. Operators interact with the 2711P-T7C22A9P's control system by using the touchscreen or keypad.
The 2711P-T7C22A9P is configured with the FactoryTalk View Studio software and its integrated runtime system is the FactoryTalk View Machine Edition Station software. The Machine Edition Station runs projects that were developed with the FactoryTalk View Studio software and it is used in the 2711P-T7C22A9P and all PanelView Plus 7 terminals. Two versions of the FactoryTalk View Studio software provide application development for the PanelView Plus 7 terminals. With the Machine Edition Import Wizard, the user can import PanelView Standard / PanelBuilder® 32 and PanelView applications into the 2711P-T7C22A9P's FactoryTalk View Studio software as Machine Edition applications. The FactoryTalk ViewPoint software, an add-on to the FactoryTalk View Studio software, enables plant managers, production inspectors, system integrators, and other key staff to remotely view and control real-time factory floor operations on the 2711P-T7C22A9P from a web browser. The FactoryTalk ViewPoint allows screens to be fully scalable and animated in the 2711P-T7C22A9P's browser. The remote user terminal can also display images without an active screen. The 2711P-T7C22A9P has a license that promotes a client connection to the terminal and no extra writing is needed for this connection
Technical Specifications for 2711P-T7C22A9P
Manufacturer
Rockwell Automation
Brand
Allen-Bradley
Part Number/Catalog No.
2711P-T7C22A9P
Product Line
Panelview Plus 7
Input Type
Touchscreen
Display Size
6.5 in.
Order Number:
2711P-B10C4D8
2711P-B12C4D8
2711P-B15C22A9P
2711P-B6M5D8
2711P-B7C4D8
2711PC-T6C20D8
2711P-K10C4D8
2711P-K12C4D8
2711P-K7C4D8
2711P-RDB10C
2711P-RDK12C
2711P-RDK7C
2711P-RDT10C
2711P-RDT12C
2711P-RDT15C
2711P-RDT7C
2711P-RN15S
2711P-RN6
2711P-RP1
2711P-RP2
2711P-RP8D
2711P-RP9A
2711P-RSACDIN
2711P-RW1
2711P-T10C21D8S
2711P-T10C22A9P
2711P-T10C22D8S
2711P-T10C4D9
2711P-T12C4A9
2711P-T12C4D9
2711P-T12W21D8S
2711P-T12W22D9P
2711P-T15C22D9P
2711P-T19C22D9P
2711P-T6C20D
2711P-T6C20D8
2711P-T6C21D8S
2711P-T6M20D8
2711P-T7C21D8S
2711P-T7C22D8S
2711P-T7C4D8
2711P-RP8A
2711P-RP9D
2711P-T10C4A8
2711P-T10C4D8
2711R-T10T
2711R-T4T
2711R-T7T
2711P-T7C22D9P
2711P-T7C22D9P-B
2711P-T7C22A9P
2711P-T7C22A9P-B
2711P-B7C22D9P
2711P-B7C22D9P-B
2711P-B7C22A9P
2711P-B7C22A9P-B
2711P-T9W22D9P
2711P-T9W22D9-B
2711P-T9W22A9P
2711P-T9W22A9P-B
2711P-T10C22D9P
2711P-T10C22D9P-B
2711P-T10C22A9P
2711P-T10C22A9P-B
2711P-B10C22D9P
2711P-B10C22D9P-B
2711P-B10C22A9P
2711P-B10C22A9-B
2711P-T12W22D9P
2711P-T12W22D9P-B
2711P-T12W22A9P
2711P-T12W22A9P-B
2711P-T15C22D9P
2711P-T15C22D9P-B
2711P-T15C22A9P
2711P-T15C22A9P-B
2711P-B15C22D9P
2711P-B15C22D9P-B
2711P-B15C22A9P
2711P-B15C22A9P-B
2711P-T19C22D9P
2711P-T19C22D9P-B
2711P-T19C22A9P
2711P-T19C22A9P-B
2711P-T9W22D9P-BSHK
2711P-T12W22D9P-BSHK
2711P-T7C22D9PK
2711P-T9W22D9PK
2711P-T10C22D9PK
2711P-T12W22D9PK
2711P-T15C22D9PK
2711P-T19C22D9PK
2711P-B15C22D9PK
2711P-T12W22D9P-BM001
2711P-T12W22D9P-BM002
2711P-T12W22D9P-BM003
2711P-T12W22D9P-BM004
2711P-T12W22D9P-BM005
2711P-T12W22D9P-BM006
2711P-T12W22D9P-BM007
2711P-T12W22D9P-BM008
2711P-T12W22D9P-BM009
2711P-T12W22D9P-BM010
2711P-T12W22D9P-BM011
2711P-T12W22D9P-BM012
2711P-T12W22D9P-BM013
2711P-T12W22D9P-BM014
2711P-T12W22D9P-BM015
2711P-T12W22D9P-BM016
-----------------------------------
Lily
HONGKONG XIEYUAN TECH CO., LIMITED
T: 86-027-85568699 F: 86-027-85309780
E-mail: lily@hkxytech.com
Add: 7-A16,Caishen Commercial Plaza,Hankou Railway Station,Wuhan, Hubei, China
Web: www.hkxytech.com