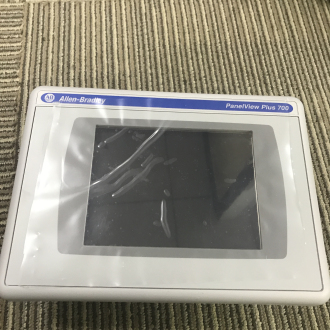 BASIC INFO
Allen-Bradley 2711P-T10C22D8S Panelview Plus 7 Panelview Plus 7 Operator Interface
Description:
Panelview Plus 7 Operator Interface Standard Model, Touchscreen, 10.4 in. TFT Color Display DLR Ethernet Communication Port, with 24 VDC Power, Windows CE OS License Operating System, HMI, Brandless Version
About 2711P-T10C22D8S

The 2711P-T10C22D8S terminal is an Allen-Bradley PanelView terminal. It is a graphics terminal from the 2711 PanelView series. The PanelView 7 standard terminal is an operator interface device. It bridges the connection between the operators and a machine. The devices that are connected to the ControlLogix 5570 and the CompactLogix 5370 systems can be controlled and monitored by using this display terminal. The terminal uses animated graphics and text which help the operators understand the state of operation of the machine or the application process. The 2711P-T10C22D8S terminal is an SVGA TFT color display with a resolution of 800 x 600 and it runs with 24 Volts DC power. The size of the display terminal is 10.4 inches. It comes with the DLR Ethernet communication port. It has the ability to detect faults in the process. The display terminal runs with a licensed version of the Windows CE operating system. The panel is a brandless version and it contains no labeling. The 2711P-T10C22D8S terminal weighs 5.03 pounds.
The 2711P-T10C22D8S terminal uses 512 MB of RAM which is a non-volatile memory unit. The panel can operate with shocks of up to 15 G for 11 milliseconds. It can also withstand shocks of up to 30 G for 11 milliseconds when it is not under operation. The panel can be used at an altitude of up to 2000 meters above sea level without getting derated. The heat dissipation rating in the panel is 68 BTU per hour. The display panel has an aspect ratio of 4:3. The 2711P-T10C22D8S terminal is an analog-resistive touchscreen and it comes with an actuation rating of 1 million presses. The rated operating force for the touchscreen is 100 G. The device is equipped with the HMI software which enables different options for the operators. It helps the operators to install, configure, and operate the PanelView terminal.
Technical Specifications for 2711P-T10C22D8S
Manufacturer
Rockwell Automation
Brand
Allen-Bradley
Part Number/Catalog No.
2711P-T10C22D8S
Product Line
Panelview Plus 7
Input Type
Touchscreen
Display Size
10.4 in.
Order Number:
2711P-B10C4D8
2711P-B12C4D8
2711P-B15C22A9P
2711P-B6M5D8
2711P-B7C4D8
2711PC-T6C20D8
2711P-K10C4D8
2711P-K12C4D8
2711P-K7C4D8
2711P-RDB10C
2711P-RDK12C
2711P-RDK7C
2711P-RDT10C
2711P-RDT12C
2711P-RDT15C
2711P-RDT7C
2711P-RN15S
2711P-RN6
2711P-RP1
2711P-RP2
2711P-RP8D
2711P-RP9A
2711P-RSACDIN
2711P-RW1
2711P-T10C21D8S
2711P-T10C22A9P
2711P-T10C22D8S
2711P-T10C4D9
2711P-T12C4A9
2711P-T12C4D9
2711P-T12W21D8S
2711P-T12W22D9P
2711P-T15C22D9P
2711P-T19C22D9P
2711P-T6C20D
2711P-T6C20D8
2711P-T6C21D8S
2711P-T6M20D8
2711P-T7C21D8S
2711P-T7C22D8S
2711P-T7C4D8
2711P-RP8A
2711P-RP9D
2711P-T10C4A8
2711P-T10C4D8
2711R-T10T
2711R-T4T
2711R-T7T
2711P-T7C22D9P
2711P-T7C22D9P-B
2711P-T7C22A9P
2711P-T7C22A9P-B
2711P-B7C22D9P
2711P-B7C22D9P-B
2711P-B7C22A9P
2711P-B7C22A9P-B
2711P-T9W22D9P
2711P-T9W22D9-B
2711P-T9W22A9P
2711P-T9W22A9P-B
2711P-T10C22D9P
2711P-T10C22D9P-B
2711P-T10C22A9P
2711P-T10C22A9P-B
2711P-B10C22D9P
2711P-B10C22D9P-B
2711P-B10C22A9P
2711P-B10C22A9-B
2711P-T12W22D9P
2711P-T12W22D9P-B
2711P-T12W22A9P
2711P-T12W22A9P-B
2711P-T15C22D9P
2711P-T15C22D9P-B
2711P-T15C22A9P
2711P-T15C22A9P-B
2711P-B15C22D9P
2711P-B15C22D9P-B
2711P-B15C22A9P
2711P-B15C22A9P-B
2711P-T19C22D9P
2711P-T19C22D9P-B
2711P-T19C22A9P
2711P-T19C22A9P-B
2711P-T9W22D9P-BSHK
2711P-T12W22D9P-BSHK
2711P-T7C22D9PK
2711P-T9W22D9PK
2711P-T10C22D9PK
2711P-T12W22D9PK
2711P-T15C22D9PK
2711P-T19C22D9PK
2711P-B15C22D9PK
2711P-T12W22D9P-BM001
2711P-T12W22D9P-BM002
2711P-T12W22D9P-BM003
2711P-T12W22D9P-BM004
2711P-T12W22D9P-BM005
2711P-T12W22D9P-BM006
2711P-T12W22D9P-BM007
2711P-T12W22D9P-BM008
2711P-T12W22D9P-BM009
2711P-T12W22D9P-BM010
2711P-T12W22D9P-BM011
2711P-T12W22D9P-BM012
2711P-T12W22D9P-BM013
2711P-T12W22D9P-BM014
2711P-T12W22D9P-BM015
2711P-T12W22D9P-BM016
-----------------------------------
Lily
HONGKONG XIEYUAN TECH CO., LIMITED
T: 86-027-85568699 F: 86-027-85309780
E-mail: lily@hkxytech.com
Add: 7-A16,Caishen Commercial Plaza,Hankou Railway Station,Wuhan, Hubei, China
Web: www.hkxytech.com