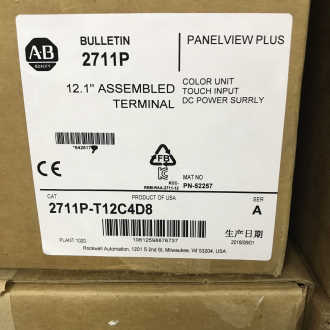 BASIC INFO
Allen-Bradley 2711P-RDT10C Panelview Plus 1000 series Display Module

Description:
The 2711P-RDT10C Allen-Bradley Display Module is part of the Panelview Plus 1000 series with a 10.4-inch Color Display and Touchscreen. The 2711P-RDT10C is compatible with several Panelview Plus Logic Modules and communication modules that can be installed on the rear of this unit.
About 2711P-RDT10C
The Allen Bradley 2711P-RDT10C is a PanelView Plus replacement part for PanelView Plus graphics terminals. It is an HMI (Human-Module Interface) that lets users control, monitor, or display information graphically. This module has a 10.4-inch flat-panel color display screen that has a minimum resolution of 640 x 480 and 18-bit graphics. It supports an operator input via the touchscreen. This unit is compatible with the 2711P-RP1, the 2711P-RP2, the 2711P-RP8D, the 2711P-RP9D, and several other logic modules, depending on the series of the display module. The 2711P-RDT10C terminal runs the Windows CE 4.1 operating system. By default, it is shipped as a closed system, which launches a FactoryTalk View Machine Edition application on startup. It can be configured as an open system for desktop access and has an Ethernet port and RS-232 or USB port for communication. The 2711P-RDT10C terminal contains several improvements from other PanelView Plus 400 terminals, including an increased processor speed, system memory, storage space, and illumination, to name just a few.
It can be connected to external devices and supports ActiveX controls and remote connectivity. The 2711P-RDT10C can be panel mounted in NEMA, UL, or IP rated enclosures. The 2711P-RDT10C terminal has standard Windows features, such as a command processor, Explorer shell, Network user interface, and a VNC server. It also has a built-in PDF viewer for reading content documents and a mechanism for creating backups. The 2711P-RDT10C uses vector-based graphics and provides data management through CSV files. With the login feature, it facilitates data storage and modification.
Technical Specifications for 2711P-RDT10C
Manufacturer
Rockwell Automation
Brand
Allen-Bradley
Part Number/Catalog No.
2711P-RDT10C
Series
Panelview Plus 1000 series
Product Type
Display Module
Dimensions
224 x 375 millimeters
Operating System
Windows CE 4.1
Input Type
Touchscree
Order Number:
2711P-B10C4D8
2711P-B12C4D8
2711P-B15C22A9P
2711P-B6M5D8
2711P-B7C4D8
2711PC-T6C20D8
2711P-K10C4D8
2711P-K12C4D8
2711P-K7C4D8
2711P-RDB10C
2711P-RDK12C
2711P-RDK7C
2711P-RDT10C
2711P-RDT12C
2711P-RDT15C
2711P-RDT7C
2711P-RN15S
2711P-RN6
2711P-RP1
2711P-RP2
2711P-RP8D
2711P-RP9A
2711P-RSACDIN
2711P-RW1
2711P-T10C21D8S
2711P-T10C22A9P
2711P-T10C22D8S
2711P-T10C4D9
2711P-T12C4A9
2711P-T12C4D9
2711P-T12W21D8S
2711P-T12W22D9P
2711P-T15C22D9P
2711P-T19C22D9P
2711P-T6C20D
2711P-T6C20D8
2711P-T6C21D8S
2711P-T6M20D8
2711P-T7C21D8S
2711P-T7C22D8S
2711P-T7C4D8
2711P-RP8A
2711P-RP9D
2711P-T10C4A8
2711P-T10C4D8
2711R-T10T
2711R-T4T
2711R-T7T
2711P-T7C22D9P
2711P-T7C22D9P-B
2711P-T7C22A9P
2711P-T7C22A9P-B
2711P-B7C22D9P
2711P-B7C22D9P-B
2711P-B7C22A9P
2711P-B7C22A9P-B
2711P-T9W22D9P
2711P-T9W22D9-B
2711P-T9W22A9P
2711P-T9W22A9P-B
2711P-T10C22D9P
2711P-T10C22D9P-B
2711P-T10C22A9P
2711P-T10C22A9P-B
2711P-B10C22D9P
2711P-B10C22D9P-B
2711P-B10C22A9P
2711P-B10C22A9-B
2711P-T12W22D9P
2711P-T12W22D9P-B
2711P-T12W22A9P
2711P-T12W22A9P-B
2711P-T15C22D9P
2711P-T15C22D9P-B
2711P-T15C22A9P
2711P-T15C22A9P-B
2711P-B15C22D9P
2711P-B15C22D9P-B
2711P-B15C22A9P
2711P-B15C22A9P-B
2711P-T19C22D9P
2711P-T19C22D9P-B
2711P-T19C22A9P
2711P-T19C22A9P-B
2711P-T9W22D9P-BSHK
2711P-T12W22D9P-BSHK
2711P-T7C22D9PK
2711P-T9W22D9PK
2711P-T10C22D9PK
2711P-T12W22D9PK
2711P-T15C22D9PK
2711P-T19C22D9PK
2711P-B15C22D9PK
2711P-T12W22D9P-BM001
2711P-T12W22D9P-BM002
2711P-T12W22D9P-BM003
2711P-T12W22D9P-BM004
2711P-T12W22D9P-BM005
2711P-T12W22D9P-BM006
2711P-T12W22D9P-BM007
2711P-T12W22D9P-BM008
2711P-T12W22D9P-BM009
2711P-T12W22D9P-BM010
2711P-T12W22D9P-BM011
2711P-T12W22D9P-BM012
2711P-T12W22D9P-BM013
2711P-T12W22D9P-BM014
2711P-T12W22D9P-BM015
2711P-T12W22D9P-BM016
-----------------------------------
Lily
HONGKONG XIEYUAN TECH CO., LIMITED
T: 86-027-85568699 F: 86-027-85309780
E-mail: lily@hkxytech.com
Add: 7-A16,Caishen Commercial Plaza,Hankou Railway Station,Wuhan, Hubei, China
Web: www.hkxytech.com