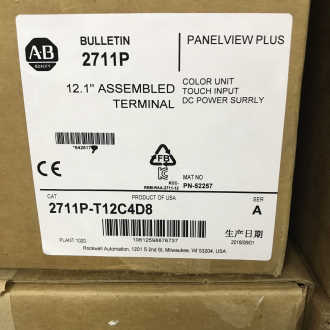 BASIC INFO
Allen-Bradley 2711P-RDB10C Panelview Plus 1000 Display Module

Description:

This Panelview Plus 1000 Display Module has a 10.4 in. Color Display and user input is done via Touchscreen/Keypad. This unit requires a compatible Panelview Plus logic module.
About 2711P-RDB10C

The Allen-Bradley 2711P-RDB10C is a PanelView Plus display module that is a replacement component for a PanelView Plus graphics terminal. It is an HMI (Human Machine Interface) that lets the user control application information. It has a 10.4-inch flat-panel color display with a minimum resolution of 640 x 480 and 18-bit graphics. It supports operator input via 32 function keys and a touchscreen.
The 2711P-RDB10C terminal runs the Windows CE 4.1 operating system. By default, it ships with a FactoryTalk View Machine Edition application on startup. It can be configured as an open system for desktop access and has Ethernet ports and RS-232 or USB ports for communication. The 2711P-RDB10C has many improvements over other PanelView terminals including increased processor speed, system memory, storage space, and illumination. It can be connected to various external peripherals such as keyboards and printers. It also supports ActiveX controls and remote connectivity.
The 2711P-RDB10C terminal also provides standard Windows features like the command processor, Explorer shell, Network user interface, and VNC server. It has a built-in PDF viewer for reading content documents and a mechanism for creating backups which can be restored. It uses vector-based graphics and provides data management through CSV files. The login feature facilitates date storage and modification. This display module can be used with different Panelview Plus Logic modules such as the 2711P-RP1 and the 2711P-RP8D.
Technical Specifications for 2711P-RDB10C
Manufacturer
Rockwell Automation
Brand
Allen-Bradley
Part Number/Catalog No.
2711P-RDB10C
Display Resolution
640 x 480
Input Type
Keypad/Touchscreen
Communication Ports
Ethernet, RS-232, USB
Order Number:
2711P-B10C4D8
2711P-B12C4D8
2711P-B15C22A9P
2711P-B6M5D8
2711P-B7C4D8
2711PC-T6C20D8
2711P-K10C4D8
2711P-K12C4D8
2711P-K7C4D8
2711P-RDB10C
2711P-RDK12C
2711P-RDK7C
2711P-RDT10C
2711P-RDT12C
2711P-RDT15C
2711P-RDT7C
2711P-RN15S
2711P-RN6
2711P-RP1
2711P-RP2
2711P-RP8D
2711P-RP9A
2711P-RSACDIN
2711P-RW1
2711P-T10C21D8S
2711P-T10C22A9P
2711P-T10C22D8S
2711P-T10C4D9
2711P-T12C4A9
2711P-T12C4D9
2711P-T12W21D8S
2711P-T12W22D9P
2711P-T15C22D9P
2711P-T19C22D9P
2711P-T6C20D
2711P-T6C20D8
2711P-T6C21D8S
2711P-T6M20D8
2711P-T7C21D8S
2711P-T7C22D8S
2711P-T7C4D8
2711P-RP8A
2711P-RP9D
2711P-T10C4A8
2711P-T10C4D8
2711R-T10T
2711R-T4T
2711R-T7T
2711P-T7C22D9P
2711P-T7C22D9P-B
2711P-T7C22A9P
2711P-T7C22A9P-B
2711P-B7C22D9P
2711P-B7C22D9P-B
2711P-B7C22A9P
2711P-B7C22A9P-B
2711P-T9W22D9P
2711P-T9W22D9-B
2711P-T9W22A9P
2711P-T9W22A9P-B
2711P-T10C22D9P
2711P-T10C22D9P-B
2711P-T10C22A9P
2711P-T10C22A9P-B
2711P-B10C22D9P
2711P-B10C22D9P-B
2711P-B10C22A9P
2711P-B10C22A9-B
2711P-T12W22D9P
2711P-T12W22D9P-B
2711P-T12W22A9P
2711P-T12W22A9P-B
2711P-T15C22D9P
2711P-T15C22D9P-B
2711P-T15C22A9P
2711P-T15C22A9P-B
2711P-B15C22D9P
2711P-B15C22D9P-B
2711P-B15C22A9P
2711P-B15C22A9P-B
2711P-T19C22D9P
2711P-T19C22D9P-B
2711P-T19C22A9P
2711P-T19C22A9P-B
2711P-T9W22D9P-BSHK
2711P-T12W22D9P-BSHK
2711P-T7C22D9PK
2711P-T9W22D9PK
2711P-T10C22D9PK
2711P-T12W22D9PK
2711P-T15C22D9PK
2711P-T19C22D9PK
2711P-B15C22D9PK
2711P-T12W22D9P-BM001
2711P-T12W22D9P-BM002
2711P-T12W22D9P-BM003
2711P-T12W22D9P-BM004
2711P-T12W22D9P-BM005
2711P-T12W22D9P-BM006
2711P-T12W22D9P-BM007
2711P-T12W22D9P-BM008
2711P-T12W22D9P-BM009
2711P-T12W22D9P-BM010
2711P-T12W22D9P-BM011
2711P-T12W22D9P-BM012
2711P-T12W22D9P-BM013
2711P-T12W22D9P-BM014
2711P-T12W22D9P-BM015
2711P-T12W22D9P-BM016
-----------------------------------
Lily
HONGKONG XIEYUAN TECH CO., LIMITED
T: 86-027-85568699 F: 86-027-85309780
E-mail: lily@hkxytech.com
Add: 7-A16,Caishen Commercial Plaza,Hankou Railway Station,Wuhan, Hubei, China
Web: www.hkxytech.com