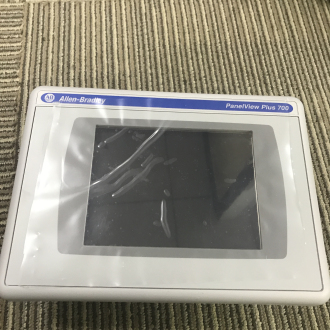 BASIC INFO
Allen-Bradley 2711P-B10C22A9P Panelview Plus 7 Graphic Terminals
Description: Allen Bradley Panelview Plus 7 Terminal, Performance Model, with Touchscreen and Keypad,10 SVGA, TFT Color Display, with One Ethernet Port, 100-240VAC Powered , Windows CE OS License, Pro Software, Performance Model
About 2711P-B10C22A9P
The Allen-Bradley 2711P-B10C22A9P PanelView Plus 7 Performance Terminal is an operator interface device that monitors devices attached to ControlLogix and CompactLogix 5370 controllers through an EtherNet/IP network. Its animated graphics provide an intuitive view of a machine. The user can create applications using the FactoryTalk View Studio Machine Edition and FactoryTalk ViewPoint software, version 2.6 or later.
The 2711P-B10C22A9P terminal comes with a 10.4-inch backlit color display that has a resistive touchscreen and a keypad input. The display resolution is 800 x 600 SVGA with 18-bit color graphics and a 4:3 aspect ratio. The 2711P-B10C22A9P weighs 5.69 lbs. and measures 9.92 x 15.16 x 2.74 inches. It has a 512 MB non-volatile flash memory and a 512 MB RAM. It also supports a Secure Digital card for external storage. The 2711P-B10C22A9P requires 100 – 240V AC input voltage and has a maximum power consumption of 105 VA. It can be panel-mounted with NEMA/UL Type 12, 13, 4X, or IP66-rated enclosures.
The 2711P-B10C22A9P performance terminal runs on Windows CE with a built-in pdf viewer and extended features such as a web browser, the MS Office suite, and a WordPad text editor. Other extended features include ActiveX controls and remote connectivity for external devices such as a mouse or a keyboard to provide better control.
Technical Specifications for 2711P-B10C22A9P
Manufacturer
Rockwell Automation
Brand
Allen-Bradley
Part Number/Catalog No.
2711P-B10C22A9P
Product Line
Panelview Plus 7
Input Type
Touchscreen/Keypad
Display Size
10.4 in.
Order Number:
2711P-B10C4D8
2711P-B12C4D8
2711P-B15C22A9P
2711P-B6M5D8
2711P-B7C4D8
2711PC-T6C20D8
2711P-K10C4D8
2711P-K12C4D8
2711P-K7C4D8
2711P-RDB10C
2711P-RDK12C
2711P-RDK7C
2711P-RDT10C
2711P-RDT12C
2711P-RDT15C
2711P-RDT7C
2711P-RN15S
2711P-RN6
2711P-RP1
2711P-RP2
2711P-RP8D
2711P-RP9A
2711P-RSACDIN
2711P-RW1
2711P-T10C21D8S
2711P-T10C22A9P
2711P-T10C22D8S
2711P-T10C4D9
2711P-T12C4A9
2711P-T12C4D9
2711P-T12W21D8S
2711P-T12W22D9P
2711P-T15C22D9P
2711P-T19C22D9P
2711P-T6C20D
2711P-T6C20D8
2711P-T6C21D8S
2711P-T6M20D8
2711P-T7C21D8S
2711P-T7C22D8S
2711P-T7C4D8
2711P-RP8A
2711P-RP9D
2711P-T10C4A8
2711P-T10C4D8
2711R-T10T
2711R-T4T
2711R-T7T
2711P-T7C22D9P
2711P-T7C22D9P-B
2711P-T7C22A9P
2711P-T7C22A9P-B
2711P-B7C22D9P
2711P-B7C22D9P-B
2711P-B7C22A9P
2711P-B7C22A9P-B
2711P-T9W22D9P
2711P-T9W22D9-B
2711P-T9W22A9P
2711P-T9W22A9P-B
2711P-T10C22D9P
2711P-T10C22D9P-B
2711P-T10C22A9P
2711P-T10C22A9P-B
2711P-B10C22D9P
2711P-B10C22D9P-B
2711P-B10C22A9P
2711P-B10C22A9-B
2711P-T12W22D9P
2711P-T12W22D9P-B
2711P-T12W22A9P
2711P-T12W22A9P-B
2711P-T15C22D9P
2711P-T15C22D9P-B
2711P-T15C22A9P
2711P-T15C22A9P-B
2711P-B15C22D9P
2711P-B15C22D9P-B
2711P-B15C22A9P
2711P-B15C22A9P-B
2711P-T19C22D9P
2711P-T19C22D9P-B
2711P-T19C22A9P
2711P-T19C22A9P-B
2711P-T9W22D9P-BSHK
2711P-T12W22D9P-BSHK
2711P-T7C22D9PK
2711P-T9W22D9PK
2711P-T10C22D9PK
2711P-T12W22D9PK
2711P-T15C22D9PK
2711P-T19C22D9PK
2711P-B15C22D9PK
2711P-T12W22D9P-BM001
2711P-T12W22D9P-BM002
2711P-T12W22D9P-BM003
2711P-T12W22D9P-BM004
2711P-T12W22D9P-BM005
2711P-T12W22D9P-BM006
2711P-T12W22D9P-BM007
2711P-T12W22D9P-BM008
2711P-T12W22D9P-BM009
2711P-T12W22D9P-BM010
2711P-T12W22D9P-BM011
2711P-T12W22D9P-BM012
2711P-T12W22D9P-BM013
2711P-T12W22D9P-BM014
2711P-T12W22D9P-BM015
2711P-T12W22D9P-BM016
-----------------------------------
Lily
HONGKONG XIEYUAN TECH CO., LIMITED
T: 86-027-85568699 F: 86-027-85309780
E-mail: lily@hkxytech.com
Add: 7-A16,Caishen Commercial Plaza,Hankou Railway Station,Wuhan, Hubei, China
Web: www.hkxytech.com