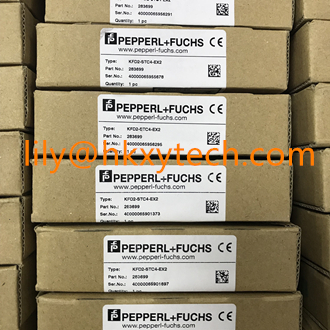 BASIC INFO
P+F HART Loop Converter KFD2-HLC-Ex1.D 1-channel isolated barrier 24 V DC supply Analog input
Features
• 1-channel isolated barrier
• 24 V DC supply (Power Rail)
• HART field device input with transmitter power supply
• Usable as signal splitter (1 input and several outputs)
• 3 analog outputs 4 mA ... 20 mA
• Sink and source mode output
• Configurable by keypad
Function
This isolated barrier is used for intrinsic safety applications. It
is a HART loop converter that provides power to transmitters
or can be connected to existing HART loops in parallel.
It is able to evaluate up to four HART variables (PV, SV, TV,
QV). Of those four HART variables, the data contained in any
three of them can be converted to three different
4 mA ... 20 mA current signals. These loop signals can be
connected to display devices or analog inputs on the process
control system/control system.
The unit is easily programmed by the use of a keypad located
on the front of the unit or with the PACTware™ configuration
software.
For additional information, refer to the manual and
www.pepperl-fuchs.com.
Application
• Configurable as primary or secondary master
• Automatic HART burst supported
• Support for a HART handheld device connected on safe
area side
• Can be configured to assign the same input variable to
multiple outputs (signal splitting)
General specifications
Signal type Analog input
Supply
Connection Power Rail or terminals 23+, 24-
Rated voltage Ur 19 ... 30 V DC
Rated current Ir approx. 120 mA at 24 V DC
Power dissipation 2.3 W
Power consumption 2.9 W
HART signal channels (intrinsically
safe)
Conformity HART field device input (revision 5 to 7)
Interface
Programming interface programming socket
Input
Connection side field side
Connection terminals 1, 2, 3, 4, 5, 6
Open circuit voltage/short-circuit current typ. 24 V / 28 mA
Input resistance 250 ohm5 % (terminals 2, 3 and with jumper on 5, 6)
Available voltage ≥ 15.5 V at 20 mA, short-circuit protected
Output
Connection side control side
Connection output I: terminals 7, 8, 9 , output II: terminals 13, 14, 15 , output III: terminals 19, 20, 21
Output signal analog
Current range 4 ... 20 mA , (source or sink mode)
Load ≤ 650ohm ohmsource mode
Voltage range 5 ... 30 V , sink mode from external supply
Fault signal downscale I ≤ 2 mA, upscale I ≥ 21.5 mA (acc. NAMUR NE43) or hold measurement value
Other outputs HART communicator on terminals 22, 24
Collective error message Power Rail and LED red
Transfer characteristics
Output I, II, III
Resolution ≤ 2 µA
Accuracy < 20 µA, 10 µA typ.
Influence of ambient temperature < ± 2 µA/K
Duration of measurement/Response
delay
HART message acquisition time plus 100 ms
Galvanic isolation
Output I/II/III/power supply functional insulation acc. to IEC 62103, rated insulation voltage 50 Veff
Indicators/settings
Display elements LEDs , display
Control elements Control panel
Configuration via operating buttons
via PACTware
Labeling space for labeling at the front
Directive conformity
Electromagnetic compatibility
Directive 2014/30/EU EN 61326-1:2013 (industrial locations)
Low voltage
Directive 2014/35/EU EN 61010-1:2010
Conformity
Electromagnetic compatibility NE 21:2006
Degree of protection IEC 60529:2001
Ambient conditions
Ambient temperature -20 ... 60 °C (-4 ... 140 °F)
Mechanical specifications
Degree of protection IP20
Connection screw terminals
Mass 300 g
Dimensions 40 x 119 x 115 mm (1.6 x 4.7 x 4.5 inch) , housing type C3
Mounting on 35 mm DIN mounting rail acc. to EN 60715:2001
Data for application in connection
with hazardous areas
EU-Type Examination Certificate BASEEFA 07 ATEX 0174
Marking ¬ II (1)G [Ex ia Ga] IIC
¬ II (1)D [Ex ia Da] IIIC
Order number:
KCD2-STC-Ex1
KCD2-STC-Ex1.ES
KFD2-CRG2-Ex1.D
KFD2-HLC-Ex1.D
KFD2-HLC-Ex1.D.2W
KFD2-STC4-Ex1
KFD2-STC4-Ex1.2O
KFD2-STC4-Ex1.2O.H
KFD2-STC4-Ex1.H
KFD2-STC4-Ex2
KFU8-CRG2-Ex1.D
KCD2-STC-Ex1.2O
KCD2-STC-Ex1.2O.ES
KCD2-STC-Ex1.ES.SP
KCD2-STC-Ex1.SP
KFD2-STC3-Ex1
KFD2-STC4-Ex1-Y1
KFD2-STC4-Ex1.2O-Y1
KFD2-STC4-Ex1.ES
KFD2-STC4-Ex2-Y1
KFD2-STC5-Ex1
KFD2-STC5-Ex1.2O
KFD2-STC5-Ex1.2O.H
KFD2-STC5-Ex1.H
KFD2-STC5-Ex2
KFD2-STC5-Ex2
KFD2-STC5-Ex2
KFD2-STV4-Ex1.2O-1
KFD2-STV4-Ex2-1
KFD2-STV4-Ex2-2
KFD2-STV5-Ex1-1
KCD2-STC-Ex1.2O.DE
KFD2-HLC-Ex1.D.4S
KFD2-STV4-Ex1.2O-2
KCD2-STC-Ex1.HC
KCD2-STC-Ex1.HC.SP
KFD2-STC4-Ex1
KFD2-STC4-Ex1-Y1
KFD2-STC4-Ex1.2O
KFD2-STC4-Ex1.2O-Y1
KFD2-STC4-Ex1.2O.H
KFD2-STC4-Ex1.H
KFD2-STV4-Ex1-1
KFD2-STV4-Ex1-2
KFD2-STV4-Ex1.2O-1
KFD2-STV4-Ex2-1
KFD2-STV4-Ex2-2
KFD2-STV4-Ex1.2O-2
KFD2-STC3-Ex1
KCD2-STC-Ex1-Y1
-----------------------------------
Lily
HONGKONG XIEYUAN TECH CO., LIMITED
T: 86-027-85581877 F: 86-027-85309780
Mail:lily@whxyauto.com
Ad: 7-A16,Caishen Commercial Plaza,Hankou Railway Station,Wuhan, Hubei, China
Web: www.hkxytech.com