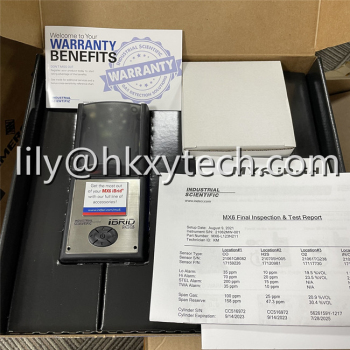 BASIC INFO
Industrial Scientific MX6 IBRID Six Gas Detector ; L123N211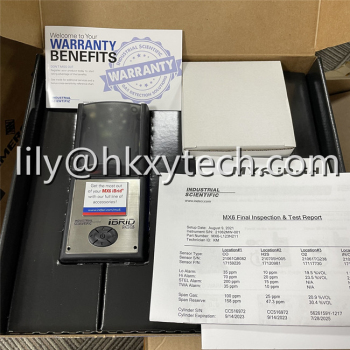 MX6 IBRID SIX-GAS MONITOR
GET READY TO SEE HAZARDOUS LEVELS OF GAS LIKE NEVER BEFORE
Monitor up to six gases
Tailor for your unique application with 24 sensor options including PID and IR
Prescreen entries for benzene with an optional convertible kit
Simplify maintenance and reporting with the DSXi Docking Station.
The MX6 iBrid® is more than an intelligent hybrid of Industrial Scientific's best monitoring technologies—it's the most adaptable six-gas monitor on the market. With hundreds of possible sensor combinations, and a robust list of available configuration settings, the MX6 iBrid is ready to monitor oxygen, toxic and combustible gas, and volatile organic compounds (VOCs).
As your work changes, so can your MX6 iBrid. It uses five sensor slots to detect up to six gases. Each of those sensor slots accepts a variety of sensors, which means you can use the instrument with a PID sensor one day and an infrared sensor the next. What's more, settings allow you to adapt the instrument's behavior for your application. If you need to use a benzene PID response factor for one application, and butadiene for others, the familiar menu structure will allow you to quickly change settings.
The rugged MX6 iBrid carries our Guaranteed for Life™ warranty and is compatible with DSX™ Docking Stations. With a DSX Docking Station, maintenance is simplified and data becomes more than a spreadsheet filled with logged readings. Proactively manage your gas detection fleet—track trends, know when instrument maintenance will be required, and understand how your MX6 iBrid instruments are being used.
Which MX6 iBrid Configuration Do You Need?
PART NO. DESCRIPTION
MX6-K1230201 MX6 iBrid – LEL, CO, H2S, O2, Ext. Li-ion
MX6-K0230201 MX6 iBrid – LEL, H2S, O2, Ext. Li-ion
MX6-K1030201 MX6 iBrid – LEL, CO, O2, Ext. Li-ion
MX6-K0030201 MX6 iBrid – LEL, O2, Ext. Li-ion
MX6-K123R211 MX6 iBrid with Pump – LEL, CO, H2S, O2, PID, Ext. Li-ion
MX6-K1235201 MX6 iBrid – LEL, CO, H2S, O2, SO2, Ext. Li-ion
MX6-0000R211 MX6 iBrid with Pump – PID, Ext. Li-ion
MX6-K0235201 MX6 iBrid – LEL, H2S, O2, SO2, Ext. Li-ion
SPECIFICATIONS*
INSTRUMENT WARRANTY
Warranted for as long as the instrument is supported by Industrial Scientific
CASE MATERIAL
Lexan/ABS/Stainless Steel with protective rubber overmold
DIMENSIONS
135 x 77 x 43 mm (5.3 x 3.05 x 1.7 in) without Pump
167 x 77 x 56 mm (6.6 x 3.1 x 2.2 in) with Pump
WEIGHT
409 g (14.4 oz) typical, without Pump
511 g (18.0 oz) typical, with Pump
DISPLAY/READOUT
Color Graphic Liquid Crystal Display
POWER SOURCE/RUN TIMES
Rechargeable, Extended-Range Lithium-ion Battery Pack (36 hours) without Pump
Rechargeable, Extended-Range Lithium-ion Battery Pack (20 hours) with Pump
Replaceable AA Alkaline Battery Pack (10.5 hours) without Pump
OPERATING TEMPERATURE RANGE
-20 ºC to 55 ºC (-4 ºF to 131 ºF)
OPERATING HUMIDITY RANGE
15% to 95% non-condensing (continuous)
-------------------
We are professional in Industrial Automation & Electrical Distribution instruments, our product mainly including: Pressure / Temperature Transmitters, Flowmeters, Analyzers, DCS Modules, PLC, Controller, Feild Communicators, Gas Detectors/ Sensors, Safety Barrier and Isolator, Multimeters, Calibrators, Recorder, Soft Starters, Inverters, Positioners, Valves, Circuit Breakers, Contactors, Switches, Power Supply, HMI, Terminal Block, Relay etc.Please feel free to inquiry us by E-mail: lily@hkxytech.com
Our main brands:
Yokogawa, Honeywell, Schneider, Emerson, Rosemount, Fisher, ABB,Siemens, MTL,Pepperl+fuchs, Hirschmann, Phoenix Contact, Weidmuller, ASCO, Norgren, Danfoss, Cisco, MOXA, IFM, Omron, GE, Rockwell(Allen Bradley), EATON, MOOG, Yaskawa, Festo, Fluke, Foxboro, PR electronics, etc.
We promise 100% original brand new with 1-year warranty.
If you are interested in our products, please feel free to contact us!
-----------------------------------------------------------
HONGKONG XIEYUAN TECH CO., LIMITED
Add: 7-A16,Caishen Commercial Plaza,Hankou Railway Station,Wuhan, China
Contact: Ms. Lily
Email: lily@hkxytech.com
WhatsApp/Skype: +86 13789949182