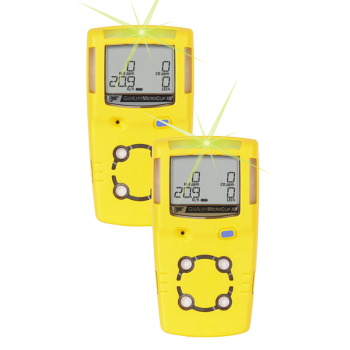 BASIC INFO
Honeywell GasAlertMicroClip XL 4-Gas Detector MCXL-XWHM-Y-NA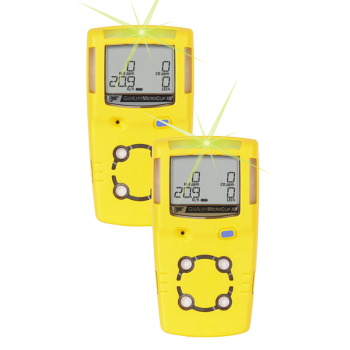 Production descriptions:
Designed for enhanced battery operation and improved functionality in cold weather environments. For simple, cost-effective management of your records, calibration and bump testing, choose BW's MicroDock II automatic test and calibration system and Fleet Manager II software.
Features
Designed for cold weather performance
IntelliFlash verifies operation and compliance to both the user and supervisor
Tamper-proof, one button operation
Powered by a rechargeable lithium polymer battery
Continuous LCD shows real-time gas concentrations
Compact and lightweight design makes it comfortable to wear
Water-resistant
Simple automatic calibration procedure; compatible with BW MicroDock II automatic test and calibration station
Full function self-test of sensor, battery status, circuit integrity and audible/visual alarms on start up
Bright wide-angled visual alarm bars
Built-in concussion-proof boot
Multi-language support in English, French, German, Spanish and Portuguese
Conveniently manage your fleet using Fleet Manager II
Confined Space Kit Available
The MicroClip XL can also be used in a confined space kit. A confined space can represent a risk for the health and safety of anyone who enters, because it has restricted entrance and exit and the possibility of dangerous substances in the atmosphere. The air within the confined space should be tested from outside before entry. A trained worker should use remote probes and sampling lines with properly calibrated and maintained equipment to verify that oxygen content is within safe limits and that a hazardous atmosphere is not present.
BW GasAlertMicroClip XL Specifications
Hydrogen Sulfide (H2S)
Range
0 to 100ppm
Resolution
1ppm
Carbon Monoxide (CO)
Range
0 to 100ppm
Resolution
1ppm
Oxygen (O2)
Range
0 to 100ppm
Resolution
0.1%
General Specifications
Size
4.4 x 2.4 x 1.2" (11.3 x 6.0 x 3.1cm)
Weight
6.7oz (190g)
Temperature
-4 to 122°F (-20 to 50°C)
Humidity
0 to 95% RH (non-condensing)
Ratings
EMI/RFI: Complies with EMC Directive 2004/108/EC IP 66
Certifications and Approvals
Class I, Div. 1, Gr. A, B, C, D
ATEX: II 1 G
Ex ia IIC T4 Ga
IECEx: Ex ia IIC T4 Ga
European Conformity
What's included with the BW GasAlertMicroClip XL

GasAlertMicroClip XL
Rechargeable Battery
Wall Outlet Charging Adaptor
Calibration / Test Cap and Hose
Manual
Multi-Language CD Manual

Ordering Number:

MCXL-XWHM-Y-NA
MCXL-XWH0-Y-NA
MCXL-XW0M-Y-NA
MCXL-X0HM-Y-NA
MCXL-XW00-Y-NA
MCXL-00HM-Y-NA
MCXL-X0H0-Y-NA
MCXL-X00M-Y-NA
MCXL-X000-Y-NA
MCXL-00H0-Y-NA
MCXL-000M-Y-NA
MC-CK-DL
MC-CK-DL
GA-NS-1
GA-LY-1
GA-ES-1
GA-CH-2
MC2-LC-1
MC-AF-K1
MC-AF-1
MC-SS-AF-K1
MC-AS01
MC-TC-1
MC2-C01-MC5
GA-PA-1-MC5-NA*
GA-VPA-1
GA-PA-3
GA-PA-1-NA*
GA-USB1-IR
DOCK2-2-1C1P-00-G
DOCK2-2-1P-00-G
DOCK2-0-1C1P-00-G
DOCK2-0-1P-00-G
MC2-SS
MC2-SS-K1
SR-W-MP75C
SR-X2V
SR-X3P
SR-H-MC
SR-M-MC
SR-W-MC-DUM
SR-DUMM1
SR-TOX-MC-DUM
CG-Q34-4
CG-Q58-4
REG-DF-1
REG-0.5
C2-HOSE1-1
MK-CG2-58