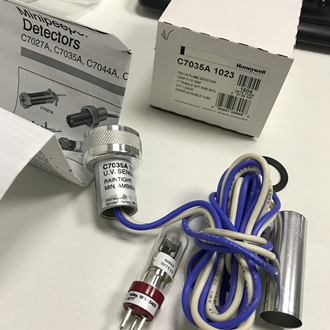 BASIC INFO
Honeywell Flame Sensor Ultraviolet Minipeeper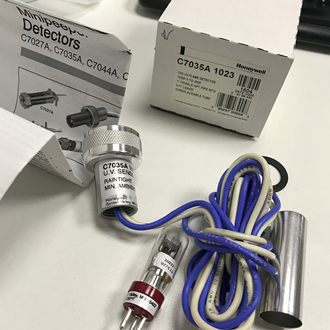 Overview
Compact flame detector for use with flame safeguard controls with ultraviolet amplifiers.
Features
Use with Honeywell Flame Safeguard primary safety controls and burners requiring ultraviolet flame detection.
Mounts on a 1 in. sighting pipe by using an integral collar.
Protects the sensing tube with a shield.
Meets outdoor rain tight requirements of Underwriters Laboratories Inc., NEMA 4 and NEMA 4X.
Wires in parallel for difficult sighting applications.
Seals against pressures as high as 5 psi (34.5 kPa) when correctly installed.
Field-replaceable ultraviolet sensing tube.
Product Specifications

Application Coal fired burners; Gas fired burners; Oil fired burners
Dimensions (in.) 1 1/2 in. diameter x 4 1/8 in. long
Dimensions (mm) 38 mm diameter x 105 mm long
Used With Flame Amplifiers: R7249A, B, R7849A, B, R7749B, R7259, R7290
Weight (lb) 6 oz
Weight (kg) 0.17 kg
Comments Detects ultraviolet radiation in flames
Mounting Integral nut for 1 in. sighting pipe.
Approvals, Underwriters Laboratories Inc. Listed: File No. MP268, Guide No. MCCZ
Approvals, Canadian Standards Association Certified: Master Report LR95329-1
Electrical Connections 2 NEC Class 1 lead wires
Vibration 0.5 G max
Ambient Temperature Range (F) 0 F to 250 F
Ambient Temperature Range (C) -18 C to +121 C
NEMA Rating NEMA 3 and NEMA 4
Lead Length (in.) 72 in.
Lead Length (mm) 1829 mm
HOT-SALE MODEL:
C7035A1023
C7035A1031
C7035A1049
C7035A1064
C7035A1080
C7027A1049
C7027A1031
C7027A1072
C7027A1023
C7027A1080
C7027A1056
C7027A1114
-----------------------------------
Lily
HONGKONG XIEYUAN TECH CO., LIMITED
T: 86-027-85581877 F: 86-027-85309780
Mail:lily@hkxytech.com
Ad: 7-A16,Caishen Commercial Plaza,Hankou Railway Station,Wuhan, Hubei, China
Web: www.hkxytech.com