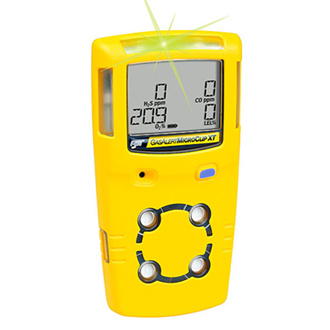 BASIC INFO
Honeywell BW GasAlertMicroClip XT MC2-XWH0-Y-CN 3-Gas Anayzer H2S O2 combustibles Multi Gas Detector

Specifications
GasAlertMicroClipXT
- Ex-stock
- Confine space entry
- Gas sensor : LEL, O2, H2S
- Easy operation
Comprehensive multi-gas monitoring
Detects Hydrogen Sulphide, Carbon Monoxide, Oxygen and combustibles (%LEL)
Designed for use in tough environments
IP 66/67 rating and built-in concussion-proof boot. Loud audible, visual and vibrational alarms for use in high noise locations
Easy use with minimal training
Simple one button operation, intuitive interface and continuous LCD showing real-time gas concentrations
Simplifies compliance
IntelliFlash™ provides visual confirmation of device compliance to user and supervisor, helping to increase site safety and simplify portable fleet management
Works hard all day
Lithium polymer battery provides long run time (10 hours), whilst benchmark sensors ensure accurate, high-performance detection of flammable, toxic and Oxygen gas hazards
Easy and cost-effective to maintain
Works with BW Technologies by Honeywell's MicroDock II automatic test and calibration system
Flexible user options
Device offers a variety of user defined options including; Auto zero on start up, Oxygen auto calibration on start up, force bump test when overdue and the choice of 5 languages
Why choose GasAlertMicroClip XT?

GasAlertMicroClip XT helps to simplify multi-gas monitoring by delivering a winning combination of ease of use, affordability and performance.
Easy for you to use
Simple one button operation provides you with with an easy to use solution that works straight from the box.
Helps to reduce the cost of your portable gas detection
Minimal training is required. Device eliminates downtime and calibration at point of use via MicroDock II
calibration and bump testing system.
Provides you with a flexible monitoring solution for a wide range of environments
IP66/67 rating and built-in concussion proof boot ensure device can be used in a wide range of applications including confined spaces. Audible, visual and vibrational alarms demand attention; even in high noise locations.
Provides you with a guaranteed compliance solution
New unit control features ensure compliance with the latest standards and regulations required for bump testing. IntelliFlash™ provides visual confirmation of device compliance to user and supervisor.
Simplifies your portable fleet management
Control all your portable detectors from your desk with Fleet Manager software - simple interface to reporting, data logging and analysis at your fingertips.
GasAlertMicroClip XT (Yellow)
Order Number
4-Gas Detector
%LEL, O2, H2S, CO
MC2-XWHM-Y-CN
3-Gas Detector
%LEL, O2, H2S
MC2-XWH0-Y-CN
%LEL, O2, CO
MC2-XW0M-Y-CN
%LEL, H2S, CO
MC2-0WHM-Y-CN
O2, H2S, CO
MC2-X0HM-Y-CN
2-Gas Detector
%LEL, O2
MC2-XW00-Y-CN
%LEL, H2S
MC2-0WH0-Y-CN
%LEL, CO
MC2-0W0M-Y-CN
H2S, CO
MC2-00HM-Y-CN
O2, H2S
MC2-X0H0-Y-CN
O2, CO
MC2-X00M-Y-CN
1-Gas Detector
%LEL
MC2-0W00-Y-CN
O2
MC2-X000-Y-CN
H2S
MC2-00H0-Y-CN
CO
MC2-000M-Y-CN
-----------------------------------
Lily
HONGKONG XIEYUAN TECH CO., LIMITED
T: 86-027-85581877 F: 86-027-85309780
Mail:lily@whxyauto.com
Ad: 7-A16,Caishen Commercial Plaza,Hankou Railway Station,Wuhan, Hubei, China
Web: www.hkxytech.com