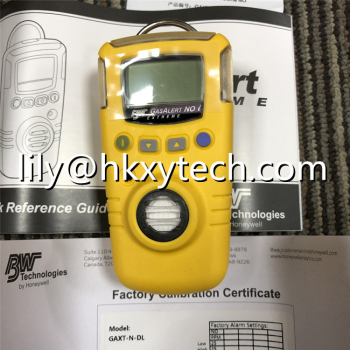 BASIC INFO
Honeywell BW GasAlert Extreme GAXT-N-DL NO Gas Detectors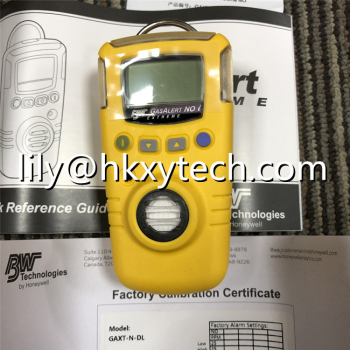 BW GasAlert Extreme
Designed with durability and comfort in mind, this gas detector monitors for any single gas hazard within its wide range of available toxic gas models.
Features & Benefits
Equipped with internal vibrating alarm for high noise areas
Secure and accurate history with datalogging option
Multi-language support in English, French, German, Spanish, and Portuguese
Quick Specs
Size:1.1 x 2.0 x 3.75 in./ 2.8 x 5.0 x 9.5 cm
Weight:2.9 oz./ 82 g
Alarms: visual, vibrating, audible (95dB)- Low, High, TWA and STEL
Tests: Sensor integrity, circuitry, battery and audible/visual alarms on activation, battery (continuous)
Pump: Compatible with the Sampler motorized pump
Typical battery life:1.5 year battery life (typical) with replaceable 3V battery
Product Overview
With easy on/off operation, this single gas detector offers extended longevity with a two year field-replaceable battery and sensor. Calibration is a simple automatic procedure and is compatible with BW Technologies by Honeywell's MicroDock II automatic test and calibration system. A wide range of user options, multi-language display and datalogging functionality make the GasAlert Extreme an ideal solution for many applications.
Additional GasAlert Extreme features:
Tamper-proof settings with passcode protection
Continuous LCD shows real-time gas concentration
Compact and lightweight design makes it comfortable to wear
Water-resistant
Simple automatic calibration procedure; compatible with BW MicroDock II automatic test and calibration station
Ordering code:
GasAlert Extreme
GAXT-A-DL
GAXT-A2-DL
GAXT-M-DL
GAXT-M2-DL
GAXT-C-DL
GAXT-V-DL
GAXT-E-DL
GAXT-Z-DL
GAXT-H-DL
GAXT-H-2-DL
GAXT-N-DL
GAXT-D-DL
GAXT-X-DL-2
GAXT-G-DL
GAXT-P-DL
GAXT-S-DL
Carrying & Protective Accessories
Order Number:
GA-BALERT
GA-BSPLASH-K
GA-HC-1
GA-CL-1
GA-NS-1
GA-LY-1
GA-ES-1
GA-CH-2
GA-SPAK
GA-SPAK-NA
SPAK-CC1
GA-AS02
GA-TC-1
E2829
GA-USB2
DOCK2-2-1D-00-G
DOCK2-0-1D-00-G
GAXT-SS
SR-A04
SR-A204
SR-M04-SC
PS-RM04H
PS-RC10
SR-V04
SR-E04
PS-RZ10
PS-RH04S
SR-N04
PS-RD04
SR-X10-C1
SR-G04
SR-P04
PS-RS04
GAXT-BC1
GAXT-BC1B
GAXT-FC1
GAXT-FC1B
GA-AG-2
GAXT-A-DL-PCB1
GAXT-A2-DL-PCB1
GAXT-M-DL-PCB1
GAXT-M2-DL-PCB1
GAXT-C-DL-PCB1
GAXT-V-DL-PCB1
GAXT-E-DL-PCB1
GAXT-Z-DL-PCB1
GAXT-H-DL-PCB1
GAXT-H-2-DL-PCB1
GAXT-N-DL-PCB1
GAXT-D-DL-PCB1
GAXT-X-DL-PCB1
GAXT-S-DL-PCB1
E2829
GAXT-H-BLABEL
GAXT-HLCD
GAXT-LCD
We promise 100% original brand new with 1-year warranty.
If you are interested in our products, please feel free to contact us!
-----------------------------------------------------------
HONGKONG XIEYUAN TECH CO., LIMITED
Add: 7-A16,Caishen Commercial Plaza,Hankou Railway Station,Wuhan, China
Contact: Ms. Lily
Email: lily@hkxytech.com
WhatsApp/Skype: +86 13789949182