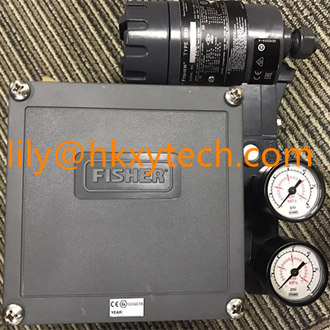 BASIC INFO
Fisher 3582i valve Positioners 582i Electro Pneumatic Converter
Fisher 3582 pneumatic valve positioners and 3582i
electro-pneumatic valve positioners, shown in figure 1,
are used with diaphragm-actuated, sliding-stem
control valve assemblies. The pneumatic valve
positioners receive a pneumatic input signal from a
control device and modulate the supply pressure to
the control valve actuator, providing an accurate valve
stem position that is proportional to the pneumatic
input signal.
3582NS positioners are designed for nuclear power
applications. The 3582NS construction includes
materials that provide superior performance at
elevated temperature and radiation levels. The O-rings
are EPDM (ethylene propylene) and the diaphragms
are EPDM/meta-aramid. EPDM demonstrates superior
temperature capability and shelf life over nitrile.
Note
Use a clean, dry, oil-free air supply with instruments
containing EPDM components. EPDM is subject to
degradation when exposed to petroleum-based lubricants.
The meta-aramid diaphragm fabric demonstrates
improved strength retention at elevated temperature
and radiation conditions.
Under the 10CFR50, Appendix B, quality assurance
program, the 3582NS positioner is qualified
commercial grade dedicated. These can be supplied as
10CFR, Part 21 items.
The 3582i electro-pneumatic valve positioner consists
of a Fisher 582i electro-pneumatic converter installed
on a 3582 pneumatic valve positioner. The 3582i
provides an accurate valve stem position that is
proportional to a DC current input signal.
The 582i electro-pneumatic converter, shown in figure
3, is a modular unit that can be installed at the factory
or in the field.
The converter receives a DC current input signal and
provides a proportional pneumatic output signal
through a nozzle/flapper arrangement. The pneumatic
output signal provides the input signal to the
pneumatic positioner, eliminating the need for a
remote mounted transducer.
Specifications
Area Classification Explosion Proof, Intrinsically Safe, Non-incendive, Dust
Certifications CSA, FM, ATEX, IECEx, CUTR, Peso, KGS, INMETRO, NEPSI, RCM
Communication Protocol 4-20mA Analog
Data Interface Wired
Diagnostics No
Input Signal Electric
Mounting Type Actuator Mounted
Operating Temperature Standard Temperature, High Temperature
Position Control Modulating
Process Control Flow, Pressure, Temperature, Level
Safety Certifications NIL
Supply Media Air
Other Configurations Contact your local Emerson business partner or sales office to learn about additional specifications or options for this product.
Features
The range of the adjustable zero and span permits the use of all standard input signals including split ranges.
Because units from one positioner family can be used in a variety of control applications, basic spare parts inventory requirements are simplified and fewer spare parts are needed to support a plant-wide positioner applications base.
With the cover removed, zero and span adjustments are easily accessible and can be made with a screw driver and spanner.
Changes in supply pressure and valve load have minimal effect on positioner operation.
Case, components, and gasket materials withstand harsh environments. Positioner bleed air purges internal parts for additional protection.
Simple adjustments permit switching between direct and reverse action.
To support diagnostic testing of valve/actuator/positioner packages with the FlowScanner™ valve diagnostic system, connectors, piping, and other hardware can be installed between the positioner and the actuator.
Specification of FS 3582i Electropneumatic Converter Valve Positioner 582i Valve Positioner

| | |
| --- | --- |
| Area Classification | Explosion Proof, Intrinsically Safe, Non-incendive, Dust |
| Certifications | CSA, FM, ATEX, IECEx, CUTR, Peso, KGS, INMETRO, NEPSI, RCM |
| Communication Protocol | 4-20mA Analog |
| Data Interface | Wired |
| Diagnostics | No |
| Input Signal | Electric |
| Mounting Type | Actuator Mounted |
| Operating Temperature | Standard Temperature, High Temperature |
| Position Control | Modulating |
| Process Control | Flow, Pressure, Temperature, Level |
| Safety Certification | NIL |
| Supply Media | Air |
-----------------------------------
Lily
HONGKONG XIEYUAN TECH CO., LIMITED
T: 86-027-85581877 F: 86-027-85309780
Mail:lily@hkxytech.com
Ad: 7-A16,Caishen Commercial Plaza,Hankou Railway Station,Wuhan, Hubei, China
Web: www.hkxytech.com