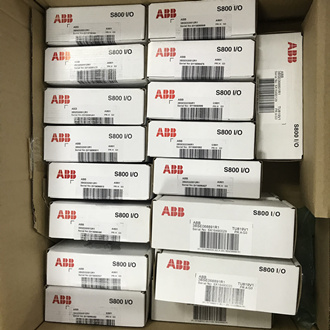 BASIC INFO
ABB TU810 / TU810V1 Compact Module Termination Unit (MTU) for S800 I/O 3BSE013230R1

The TU810/TU810V1 is a 16 channel 50 V compact module termination unit (MTU) for the S800 I/O. The MTU is a passive unit used for connection of the field wiring to the I/O modules. It also contains a part of the ModuleBus.
The MTU distributes the ModuleBus to the I/O module and to the next MTU. It also generates the correct address to the I/O module by shifting the outgoing position signals to the next MTU.
Two mechanical keys are used to configure the MTU for different types of I/O modules. This is only a mechanical configuration and it does not affect the functionality of the MTU or the I/O module. Each key has six positions, which gives a total number of 36 different configurations.
General info
Article number 3BSE013230R1
Type Compact
Connection Terminal block
Channels 16
Voltage 50 V
Mounting Both directions
Mounting detail Horizontal 55 ºC (131 °F)
Vertical 40 ºC (104 °F)
Use with I/O AI810, AI815, AI820, AI830, AI830A, AI835, AI835A, AI845, AO810, AO810V2, AO815, AO820, AO845, AO845A, DI810, DI811, DI814, DI830, DI831, DI840, DI880, DI885, DO810, DO814, DO815, DO840, DO880, DP820, DP840
Process connections 2 x 2 Process power, 5 x 2 Process power (0 V)
Single/redundant I/O Single
Features and benefits
Compact installation of I/O modules using one-wire connections.
Up to 16 channels of field signals and process power connections.
Connections to ModuleBus and I/O modules.
Mechanical keying prevents insertion of the wrong I/O module.
Latching device to DIN rail for grounding.
DIN rail mounting.
TU805K01
Terminal Unit. Used to enable 2 - and 3-wire ,connections on DI801 and DO801
TU810V1
Compact MTU, 3*8 + 2*3 terminals, 50 V
TU811V1
Compact MTU, 2*8 terminals, 250 V. T
TU812V1
Compact MTU, 25 pin D-sub Connector for field connection, 50 V.
TU813
Compact MTU, Crimp Snap-in Connector for field connection,250 V.
TU814V1
Compact MTU, Crimp Snap-in Connector for field connection, 50 V.
TU830V1
Extended MTU, 3*16 + 2*4 terminals, 50 V.
TU831V1
Extended MTU, 8*2 terminals, 250 V.
TU835V1
Extended MTU, 4*2 groups + 2*4 power terminals,50 V,individually fused per channel.
TU836V1
Extended MTU, 2*4 groups + 2*6 power terminals, 250 V,individually fused per channel.
TU837V1
Extended MTU, 2*4 groups + 2*6 power terminals, 250 V,individually fused per channel.
TU838
Extended MTU, 2*4 groups + 2*4 power return terminals, 50 V, fused.
TU839
Extended MTU, 3x2 groups + 2x3 power return terminals,250 V, fused.
TU833
Extended MTU, 3*16 + 2*4 spring-case terminals, 50V.
TU834
Extended MTU, 2x16 terminals, 50 V
TU842
Redundant horizontal MTU, 3*16 + 2*4 terminals
TU843
Redundant vertical MTU, 3*16 + 2*4 terminals
TU844
Redundant horizontal MTU, 2*16 + 2*4 terminals
TU845
Redundant vertical MTU, 2*16 + 2*4 terminals
TU850
Extended Module Termination Unit, 16 I/O channels,
TU890
Compact MTU, I.S. applications, 50 V.
TY801K01
Set of 8 pcs. of shunt sticks for current or voltage signals together with AI845 or AI880/AI880A and TU844 or TU845.
TY804K01
Set of 8 pcs. of shunt sticks for NAMUR signals together with DP840 and TU844 or TU845.
TB805
Bus Outlet. ModuleBus extent
TB845
Bus Outlet. ModuleBus extent.
TB806
Bus Inlet. ModuleBus extent.
TB825
ModuleBus Optical Media Converter
TB846
Bus Inlet. ModuleBus extent.
TK801V003
ModuleBus extension cable.Shielded Cable 0.3m (1.0 ft.)
TK801V006
ModuleBus extension cable Shielded cable 0.6m (2.0 ft.)
TK801V012
ModuleBus extension cable Shielded cable 1.2m (4.0 ft.)
TK812V150
Optical ModuleBus expansion cable with connectors,
Optical simplex cable plastic fibre, 15 m (492 ft.)
TK812V015
Optical ModuleBus expansion cable with connectors,
Optical simplex cable plastic fibre, 1.5 m (4.9 ft.)
TK812V050
Optical ModuleBus expansion cable with connectors,
Optical simplex cable plastic fibre, 5 m (16.4 ft.)
TB807
ModuleBus terminator.
TB820V2
Optical ModuleBus Modem.Optical and electrical Module Bus
interface.
TB840A
Optical ModuleBus Modem for redundant configuration.
TB810
ModuleBus Optical port
TB811
ModuleBus Optical port
TB815
Interconnection unit used with CI820/CI820V1
TB842
ModuleBus Optical port with 10 Mbit driver
TU807
Module Termination Unit for single TB840/TB840A.
TU840
Module Termination Unit for redundant TB840/TB840A, redundant I/O.
TU841
Module Termination Unit for redundant TB840/TB840A,
non-redundant I/O.
TU848
Module Termination Unit for redundant TB840/TB840A, redundant
I/O and individual power supply connections.
TU849
Module Termination Unit for redundant TB840/TB840A,
non-redundant I/O and individual power supply connections.
TK811V015
Optical ModuleBus expansion cable with connectors,
duplex cable plastic fibre1.5 m (4.9 ft.)
TK811V050
Optical ModuleBus expansion cable with connectors,
Optical simplex cable plastic fibre, 5 m (16.4 ft.)
TK811V150
Optical ModuleBus expansion cable with connectors,
duplex cable plastic fibre 15 m (49.2 ft.)
-----------------------------------
Lily
HONGKONG XIEYUAN TECH CO., LIMITED
T: 86-027-85581877 F: 86-027-85309780
Mail:lily@whxyauto.com
Ad: 7-A16,Caishen Commercial Plaza,Hankou Railway Station,Wuhan, Hubei, China
Web: www.hkxytech.com