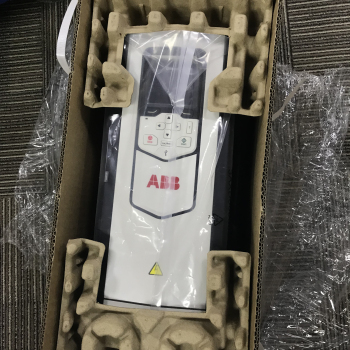 BASIC INFO
We promise 100% original brand new with 1-year warranty.
If you are interested in our products, please feel free to contact us!
-----------------------------------------------------------
HONGKONG XIEYUAN TECH CO., LIMITED
Add: 7-A16,Caishen Commercial Plaza,Hankou Railway Station,Wuhan, China
Contact: Ms. Lily
Email: lily@hkxytech.com
WhatsApp/Skype: +86 13789949182
ACS880-01, wall-mounted single drives

Build your possibilities on compatibility and flexibility
Built on ABB's all-compatible drives architecture you have unprecedented levels of compatibility, flexibility and ease of-use. Compact wall-mounted drives with all important features built-in the drive, saving installation space and time. Enjoy premium control of virtually any type of AC motor with direct torque control (DTC), including permanent magnet motors and synchronous reluctance motors. Flexibility is thanks to universal connectivity and a broad range of internal and external options.
Highlights
Power range 0.55 to 250 kW
Built on ABB's common drives architecture
IP20, IP21 and IP55 enclosure classes
Direct torque control (DTC) as standard
Integrated safety including STO as standard
Intuitive control panel with USB port
EMC filter, choke and brake chopper built-in
Supports a wide range of fieldbus protocols, I/O and encoder options
Flexible I/O and encoder options
Marine type approved design




Model code:
ACS880-01-02A4-3
ACS880-01-03A3-3
ACS880-01-04A0-3
ACS880-01-05A6-3
ACS880-01-07A2-3
ACS880-01-09A4-3
ACS880-01-12A6-3
ACS880-01-017A-3
ACS880-01-025A-3
ACS880-01-032A-3
ACS880-01-038A-3
ACS880-01-045A-3
ACS880-01-061A-3
ACS880-01-072A-3
ACS880-01-087A-3
ACS880-01-105A-3
ACS880-01-145A-3
ACS880-01-169A-3
ACS880-01-206A-3
ACS880-01-246A-3
ACS880-01-293A-3
ACS880-01-363A-3
ACS880-01-430A-3
ACS880-01-02A1-5
ACS880-01-03A0-5
ACS880-01-03A4-5
ACS880-01-04A8-5
ACS880-01-05A2-5
ACS880-01-07A6-5
ACS880-01-11A0-5
ACS880-01-014A-5
ACS880-01-021A-5
ACS880-01-027A-5
ACS880-01-034A-5
ACS880-01-040A-5
ACS880-01-052A-5
ACS880-01-065A-5
ACS880-01-077A-5
ACS880-01-096A-5
ACS880-01-124A-5
ACS880-01-156A-5
ACS880-01-180A-5
ACS880-01-240A-5
ACS880-01-260A-5
ACS880-01-361A-5
ACS880-01-414A-5
ACS880-01-07A4-7
ACS880-01-09A9-7
ACS880-01-14A3-7
ACS880-01-019A-7
ACS880-01-023A-7
ACS880-01-027A-7
ACS880-01-035A-7
ACS880-01-042A-7
ACS880-01-049A-7
ACS880-01-061A-7
ACS880-01-084A-7
ACS880-01-098A-7
ACS880-01-119A-7
ACS880-01-142A-7
ACS880-01-174A-7
ACS880-01-210A-7
ACS880-01-271A-7
ACS880-01-04A6-2
ACS880-01-06A6-2
ACS880-01-07A5-2
ACS880-01-10A6-2
ACS880-01-16A8-2
ACS880-01-24A3-2
ACS880-01-031A-2
ACS880-01-046A-2
ACS880-01-061A-2
ACS880-01-075A-2
ACS880-01-087A-2
ACS880-01-115A-2
ACS880-01-145A-2
ACS880-01-170A-2
ACS880-01-206A-2
ACS880-01-274A-2
3ABD00035958-D
3ABD00035959-D
3ABD00035960-D
3ABD00035961-D
3ABD00035962-D
3ABD00035963-D
3ABD00035964-D
3ABD00035965-D
3ABD00035966-D
3ABD00035967-D
3ABD00035968-D
3ABD00032626-D
3ABD00032627-D
3ABD00035948-D
3ABD00035949-D
3ABD00035950-D
3ABD00035951-D
3ABD00035952-D
3ABD00035953-D
3ABD00035954-D
3ABD00035955-D
3ABD00035956-D
3ABD00035957-D