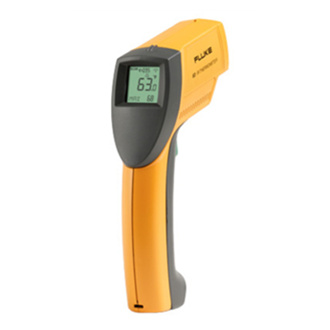 BASIC INFO
Fluke 63 Mini IR Thermometer -40C to 535C handheld device

Fluke knows temperature, with more than two decades of thermometry experience. Today, we offer the latest in non-contact IR temperature test tools, probes, accessories, and application expertise for a complete range of applications. And Fluke backs its tools with the industry's best warranty and highest rated customer service.
Reach for a rugged Fluke 63 mini IR thermometer for jobs requiring temperature measurement in hard-to-reach, hot, rotating, or dangerous situations. Get accurate readings over a broad range of temperatures -40°C to 535°C (-40°F to 999°F). Plus, the enhanced optics allow you to measure smaller objects further away. All with a comfortable and easy to use handheld device.

This handheld portable tool enables professionals to monitor the status of electrical motors and electrical panels, research heating and ventilation problems and diagnose car malfunctions with ease.
High-resolution optics
High accuracy: 1% and repeatability: 0.5%
MAX temperature display
Laser targeting
Backlit display
Expanded measurement range up to 535°C (999°F)
Specifications
Backlit display for use in poorly lit areas
Yes
Holds temperature readings
Yes
Range
-32 to 535°C (-25 to 999°F)
MIN/MAX/AVG
MAX
Datalogging
N/A
Distance to spot ratio
12:1
Hi-Lo alarm
Yes
Optional RTD probe (contact temperature measurement)
N/A
Emissivity
Fixed at 0.95
Measurement Accuracy
-32 to -26°C (-25 to -15°F)
±3°C (±5°F)
-26 to -18°C (-15 to 0°F)
±2.5°C (±4°F)
-18 to 23°C (-0 to 73°F)
±2°C (±3°F)
For targets above 23°C (73°F)
±1% of reading or ±1°C (±2°F), whichever is greater
Order information:

Fluke 572-2 High-Temperature Infrared Thermometer
Fluke 62 MAX+ Infrared Thermometer
Fluke 568 Infrared and Contact Thermometer
Fluke 64 MAX IR Thermometer
Fluke 62 MAX Infrared Thermometer
Fluke 59 MAX+ Infrared Thermometer
Fluke 59 MAX Infrared Thermometer
Fluke 568 Infrared and Contact Thermometer
Fluke 566 Infrared and Contact Thermometers
Fluke 561 Infrared and Contact Thermometer
Fluke 568 Ex Intrinsically Safe Infrared Thermometer
Fluke t3000 FC Wireless Temperature Module
Fluke 63 Mini IR Thermometer
Fluke 61 IR Thermometer
Fluke FoodPro Infrared Food Thermometer
Fluke FoodPro Plus Infrared Food Thermometer
Fluke 54 II B Dual Input Digital Thermometer with Data Logging
Fluke 53 II Single Input Digital Thermometer with Data Logging
Fluke 52 II Dual Input Digital Thermometer
Fluke 51 II Single Input Digital Thermometer

-----------------------------------
Lily
HONGKONG XIEYUAN TECH CO., LIMITED
|T: 86-027-85581877 |F: 86-027-85309780 |Mail:lily@whxyauto.com |
Ad: 7-A16,Caishen Commercial Plaza,Hankou Railway Station,Wuhan, Hubei, China
Web: www.hkxytech.com