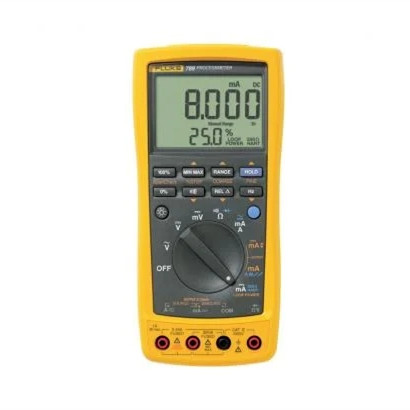 BASIC INFO
We promise 100% original brand new with 1-year warranty.
If you are interested in our products, please feel free to contact us!
-----------------------------------------------------------
HONGKONG XIEYUAN TECH CO., LIMITED
Add: 7-A16,Caishen Commercial Plaza,Hankou Railway Station,Wuhan, China
Contact: Ms. Lily
Email: lily@hkxytech.com
WhatsApp/Skype: +86 13789949182




Product overview: Fluke 789 ProcessMeter™
Fluke 789 ProcessMeter doubles your troubleshooting power and is Fluke Connect-enabled
The Fluke 789 ProcessMeter is the ultimate troubleshooting tool for electricians and instrumentation professionals. It combines the functionality of a loop calibrator with the power of a digital multimeter, and the wireless capabilities of Fluke Connect connectivity with optional IR3000FC module. The 789 has a display that's not only twice as large as the Fluke 787B, but also twice as bright with two levels of backlighting. And its built-in, selectable 250 ohm HART® resistor eliminates the need to carry a separate resistor.
The 789 also has a 24-Volt loop supply, which reduces the need to carry a separate power supply when doing offline transmitter testing. You can add an optional temperature measurement module and the wireless data logging capabilities of the Fluke Connect™ mobile app to log data wirelessly to your smart phone and review it from a remote location. So now process technicians can do a lot more while carrying a lot less.
Other useful features:
Includes 0% and 100% buttons to toggle between 4 and 20 mA sourcing for a quick span check
Provides all standard DMM capabilities including frequency measurement to 20 kHz, Min/Max/Average/Hold/Relative modes, and diode test and continuity beeper
Simultaneous displays mA and % of scale readings
Provides 20 mA DC current source/loop calibrator/simulator
Offers manual step (100%, 25%, Coarse, Fine) plus auto step and auto ramp
Delivers 0.1% dc voltage accuracy and 0.05% dc current accuracy
Provides 1200 ohm drive capability on mA source
Offers HART mode setting with loop power and a built-in 250 ohm resistor
Offers externally accessible fuses and batteries for easy replacement
Key features
Ultimate troubleshooting tool for electricians and instrumentation professionals
Combines the functionality of a loop calibrator with the power of a precision 1000 V, 440 mA True-RMS digital multimeter
Optional IR3000FC module for wireless data logging capabilities via Fluke Connect® mobile App
Includes 24 V loop power supply
Features a very large dual display with enhanced two-level backlight brightness settings
Fluke 789 ProcessMeter™
Includes:
AC175 Alligator Clips
Four (4) AA 1.5 V alkaline batteries (installed)
TL71 safety-designed test lead set
Fluke Calibration tools
Fluke 789 ProcessMeter
Fluke 710 mA Loop Valve Tester
Fluke 773 Milliamp Process Clamp Meter
Fluke 787B ProcessMeter
Fluke 709H mA loop calibrator
Fluke 773 Milliamp Process Clamp Meter
Fluke 709 mA loop calibrator
Fluke 772 milliamp process clamp meter
Fluke 771 milliamp clamp meter
Fluke 715 Volt/ mA Calibrator
Fluke 707Ex is an intrinsically safe loop calibrator
Fluke 705 loop calibrator
Fluke 754 Documenting Process Calibrator-HART
Fluke 726 Precision Multifunction Process Calibrator
Fluke 725Ex Series Process Calibrator
Fluke 753 Documenting Process Calibrator
Fluke 719 Pressure Calibrator
Fluke 719Pro Electric Pressure Calibrator
Fluke 707 Current Loop Calibrator with Quick Click Knob
Fluke 725 Multifunction Process Calibrator
Fluke 750P Series Pressure Modules
Fluke 154 HART Communicator
Fluke 729 Automatic Pressure Calibrator
Fluke 721 Pressure Calibration Instruments
Fluke 700G Pressure Gauge Calibrator
Fluke 718 Pressure Calibrator
Fluke 718Ex Intrinsically Safe Pressure Calibrator
Fluke 719 Pressure Calibrator
Fluke 750P Series Pressure Modules
Fluke 717 Pressure Calibrator