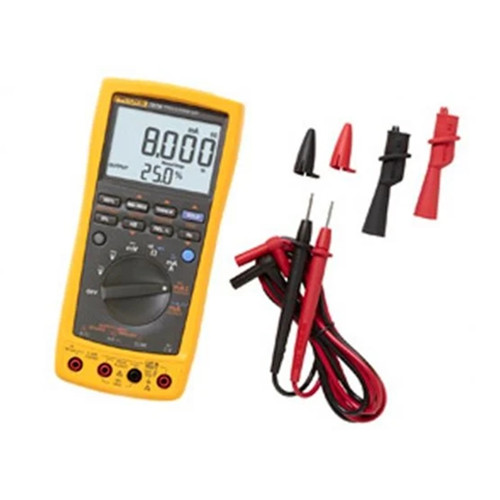 BASIC INFO
We promise 100% original brand new with 1-year warranty.
If you are interested in our products, please feel free to contact us!
-----------------------------------------------------------
HONGKONG XIEYUAN TECH CO., LIMITED
Add: 7-A16,Caishen Commercial Plaza,Hankou Railway Station,Wuhan, China
Contact: Ms. Lily
Email: lily@hkxytech.com
WhatsApp/Skype: +86 13789949182
Product overview: Fluke 787B ProcessMeter™

The Fluke 787B ProcessMeter™ doubles troubleshooting capabilities by combining the power of a safety rated digital multimeter and mA loop calibrator into a single, compact test tool. Based on the trusted measurement capabilities of the Fluke 87 DMM, the 787B adds the ability to measure, source and simulate mA with the accuracy and resolution you would expect from a Fluke mA loop calibrator, giving you the ideal tool for troubleshooting and calibrating current loop applications. With Fluke Connect® mobile app and desktop software compatibility technicians can wirelessly monitor, log, and share data from the field with their team anytime, from anywhere*.
*Requires Fluke IR3000FC module (not included). Not all models are available in all countries. Check with your local Fluke representative.
Key features
20 mA dc current source/measure/simulate
Simultaneous mA and % of scale readout
DMM designed to meet 1000 volt IEC 61010 CAT III and 600 V CAT IV standards
Fluke Connect® compatibility for wireless data logging (with IR3000FC module*)
Precision 1000 V, 440 mA true-rms digital multimeter
Frequency measurement to 20 kHz
Min/Max/Average/Hold/Relative modes
Diode test and continuity beeper
Manual step (100%, 25%, Coarse, Fine) plus Auto Step and Auto Ramp
Externally accessible battery for easy battery changes
Fluke 787B ProcessMeter™ Includes:
TL71 Premium test lead set
AC72 Alligator clips
Four AA alkaline batteries (installed)
Quick reference guide
Calibration tools
Fluke 789 ProcessMeter
Fluke 710 mA Loop Valve Tester
Fluke 773 Milliamp Process Clamp Meter
Fluke 787B ProcessMeter
Fluke 709H mA loop calibrator
Fluke 773 Milliamp Process Clamp Meter
Fluke 709 mA loop calibrator
Fluke 772 milliamp process clamp meter
Fluke 771 milliamp clamp meter
Fluke 715 Volt/ mA Calibrator
Fluke 707Ex is an intrinsically safe loop calibrator
Fluke 705 loop calibrator
Fluke 754 Documenting Process Calibrator-HART
Fluke 726 Precision Multifunction Process Calibrator
Fluke 725Ex Series Process Calibrator
Fluke 753 Documenting Process Calibrator
Fluke 719 Pressure Calibrator
Fluke 719Pro Electric Pressure Calibrator
Fluke 707 Current Loop Calibrator with Quick Click Knob
Fluke 725 Multifunction Process Calibrator
Fluke 750P Series Pressure Modules
Fluke 154 HART Communicator
Fluke 729 Automatic Pressure Calibrator
Fluke 721 Pressure Calibration Instruments
Fluke 700G Pressure Gauge Calibrator
Fluke 718 Pressure Calibrator
Fluke 718Ex Intrinsically Safe Pressure Calibrator
Fluke 719 Pressure Calibrator
Fluke 750P Series Pressure Modules
Fluke 717 Pressure Calibrator