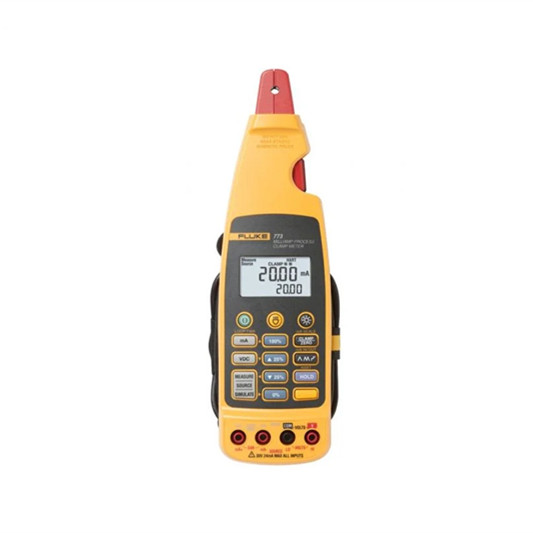 BASIC INFO
We promise 100% original brand new with 1-year warranty.
If you are interested in our products, please feel free to contact us!
-----------------------------------------------------------
HONGKONG XIEYUAN TECH CO., LIMITED
Add: 7-A16,Caishen Commercial Plaza,Hankou Railway Station,Wuhan, China
Contact: Ms. Lily
Email: lily@hkxytech.com
WhatsApp/Skype: +86 13789949182
Product overview: Fluke 773 Milliamp Process Clamp Meter


Fluke 773 Milliamp Process Clamp Meter saves time and money by measuring output signals without shutting down the system
The Fluke 773 milliamp clamp meter is accurate and versatile. It saves time and money by measuring 4–20 mA signals five times faster than with traditional DMMs, and without breaking the loop. That means you can troubleshoot a live device without having to power down and possibly miss something going on in the process.
The 773 is ideal for troubleshooting transmitters, valves, and programmable logic controllers (PLCs) found in process plants. It measures low level dc current and correlates process indication with a real physical value. And it measures up to 99.0 mA non-contact, including 10 to 50 mA signals in older control systems.
The 773 also sources and measures dc voltage, so it can be used to troubleshoot voltage input and output devices. You can detach the clamp section of the meter and use it as a remote jaw, connected to the main body by an extension cable to make it easier to take measurements in tight spaces. Plus, automatic power-off features save battery life so you can work longer without changing the batteries.
Other useful features:
Sources DC voltage to test input devices that accept a 1-5V or 0 to 10V signal
Simultaneously measures the mA signal with the clamp and sources a mA signal
Measures mA signals for PLC and control system analog I/O
Simulates 4-20 mA signals for testing control system I/O
Features a detachable clamp with extension cable for measurements in tight locations
Extends battery life with auto-off and backlight timeout
Captures and displays changing measurements with Hold function
Measures 4 to 20 mA signals with in-circuit measurement
Includes simultaneous mA in-circuit measurement with 24V loop power for powering and testing transmitters
Offers mA or voltage output linear ramp or 25% step output
Provides scaled mA output to provide a continuous mA signal that corresponds to the 4 to 20 mA signal measured by the mA clamp
Enables milliamp signal logging to a separate logging device without breaking the loop
Applies a mA input signal to a device and measure its' 4-20 mA output on devices such as valves or mA isolators
Dual backlit display with both mA measurement and percent of 4 to 20 mA span
Measurement Spotlight to illuminate hard to see wires in dark enclosure
Measures 10 to 50 mA signals in older control systems using the 99.9 mA range
Automatically changes the 4 to 20 mA output for remote testing
Key features

Loop calibrator that measures 4 to 20 mA signals without breaking the loop
Features best in class 0.2% accuracy
Sources 4 to 20 mA signals for testing control system I/O or I/Ps
Delivers 0.01 mA resolution and sensitivity
Measures DC voltage to verify 24V power supplies or voltage I/O signals
Specifications
Diameter of measurable conductor
0.177" or 4.5 mm max
Operating temperature
-10 to 50ºC
Storage temperature
-25 to 60ºC
Operating humidity
< 90% @ <30ºC, < 75% @ 30 to 55ºC
Operating altitude
0 to 2000 m
IP rating
IP 40
Size
44 x 70 x 246 mm (2 7/8 x 5 ¾ x 11 5/8 in)
Weight
410 g, (14.4 oz)
Vibration
Random 2 g, 5 to 500 Hz
Shock
1 meter drop test (except the jaw)
EMI/RFI
Meets EN61326-1
For current measurement w/ JAW, add 1mA to specification for EMC field strengths of 1V/m up to 3V/m.
Temperature coefficient
0.01% ºC
(< 18ºC or > 28ºC)
Power, battery life
(4) AA 1.5 V Alkaline, IEC LR6, 12 hours in mA source into 500 ohms
Warranty
Three years for electronics
One year for cable and clamp assembly
Functional Specifications
mA measurement
(measured by clamp)
Resolution / range
0 to 20.99 mA
Accuracy
0.2% + 5 counts
Resolution / range
21.0mA to 100.0 mA
Accuracy
1% + 5 counts
mA measurement (measured in series with test jacks)
Resolution / range
0 to 24.00 mA
Accuracy
0.2% + 2 counts
mA source (maximum mA drive: 24 mA into 1,000 ohms)
Resolution / range
0 to 24.00 mA
Accuracy
0.2% + 2 counts
mA simulate (maximum voltage 50 V dc)
Resolution / range
0 to 24.00 mA
Accuracy
0.2% + 2 counts
Voltage source (2 mA maximum drive current)
Resolution / range
0 to 10.00 V DC
Accuracy
0.2% + 2 counts
Voltage measure
Resolution / range
0 to 30.00 V DC
Accuracy
0.2% + 2 counts
Fluke 773Fluke 773 Milliamp Process Clamp Meter
Includes:
Four AA alkaline batteries (installed)
Soft carrying case
TL75 test leads
AC 72 detachable clip
TL 940 mini hook test leads
Instruction sheet
Hanging tool with hook and loop strap
Fluke 773 Milliamp Process Clamp Meter
Calibration tools
Fluke 789 ProcessMeter
Fluke 710 mA Loop Valve Tester
Fluke 773 Milliamp Process Clamp Meter
Fluke 787B ProcessMeter
Fluke 709H mA loop calibrator
Fluke 773 Milliamp Process Clamp Meter
Fluke 709 mA loop calibrator
Fluke 772 milliamp process clamp meter
Fluke 771 milliamp clamp meter
Fluke 715 Volt/ mA Calibrator
Fluke 707Ex is an intrinsically safe loop calibrator
Fluke 705 loop calibrator
Fluke 754 Documenting Process Calibrator-HART
Fluke 726 Precision Multifunction Process Calibrator
Fluke 725Ex Series Process Calibrator
Fluke 753 Documenting Process Calibrator
Fluke 719 Pressure Calibrator
Fluke 719Pro Electric Pressure Calibrator
Fluke 707 Current Loop Calibrator with Quick Click Knob
Fluke 725 Multifunction Process Calibrator
Fluke 750P Series Pressure Modules
Fluke 154 HART Communicator
Fluke 729 Automatic Pressure Calibrator
Fluke 721 Pressure Calibration Instruments
Fluke 700G Pressure Gauge Calibrator
Fluke 718 Pressure Calibrator
Fluke 718Ex Intrinsically Safe Pressure Calibrator
Fluke 719 Pressure Calibrator
Fluke 750P Series Pressure Modules
Fluke 717 Pressure Calibrator