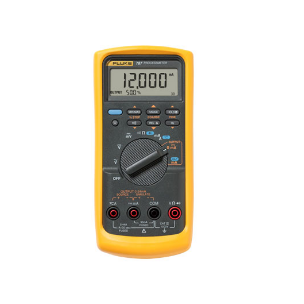 BASIC INFO
Fluke 787 ProcessMeterTM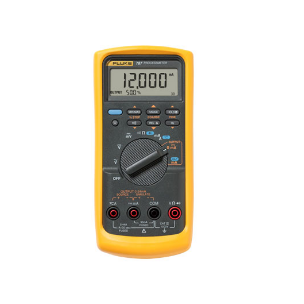 Includes:
AC70A Alligator Clips
C81Y Protective Yellow Holster with Flex-Stand™
One 9V Alkaline Battery
Quick Reference Guide
TL75 Safety-Designed Test lead Set
Double Your Power
A maintenance and calibration tool that will be at home in every instrumentation technician's tool box,the Fluke 787 ProcessMeter™ combines a DMM and a loop calibrator in one rugged, handheld tool, for about what you would expect to pay for a loop calibrator alone. Based on the trusted Fluke 87 DMM, the 787 adds the ability to measure, source, and simulate dc loop current with 0.05% accuracy and 1 microamp resolution.
Want a built in 24-Volt loop supply and 250 Ω HART resistor? Consider the Fluke 789.
Fluke combined the DMM you trust with the loop calibrator you need.


The Fluke 787 ProcessMeter™ puts a complete troubleshooting solution in the palm of your hand. Get in touch with more information, faster and easier with the newest member of the Fluke 80 Series, the 787 ProcessMeter. The 787 gives you the measurement capabilities you expect from our rugged, reliable DMMs plus the ability to source, simulate, or measure dc current with 1 microamp resolution and accuracy of 0.05%. Put it all together and you have the ideal tool for troubleshooting and calibrating current loop applications. So if you're tired of always tracking down a calibrator, lugging around two tools and switching back and forth, get the single best solution for doubling your power. The 787 ProcessMeter from Fluke.Here's the power the 787 ProcessMeter™ puts into your hands.
Digital Multimeters
| | |
| --- | --- |
| Model | Description |
| Fluke 87V | Industrial Multimeter |
| Fluke 83V | Average Responding Industrial Multimeter |
| Fluke 179 | True RMS Digital Multimeter |
| Fluke 175 | True RMS Digital Multimeter |
| Fluke 787 | ProcessMeterTM |
| Fluke PRV240 | Proving Unit |
| Fluke 177 | True RMS Digital Multimeter |
| Fluke 3000 FC Series | Wireless Multimeter |
| Fluke 233 | Remote Display Digital Multimeter |
| Fluke 289 | True-RMS Industrial Logging Multimeter |
| Fluke 287 | True-RMS Electronics Logging Multimeter |
| Fluke 117 | Fluke 117 Electrician's Digital Multimeter with Non-Contact Voltage |
| Fluke 116 | Digital Multimeter |
| Fluke 115 | Digital Multimeter |
| Fluke 114 | Digital Multimeter |
Contact us
Tel:+86 027-85880977
Email: vicky@hkxytech.com