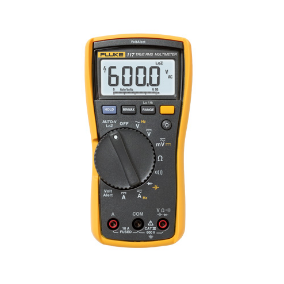 BASIC INFO
Fluke 117 Electrician's Digital Multimeter with Non-Contact Voltage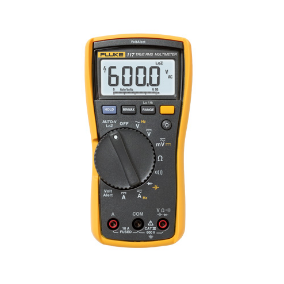 Includes:
4 mm silicone test lead set
Holster
User manual

Designed by Electricians. Engineered by Fluke – An Investment in Accuracy
With its integrated non-contact voltage detection and the AutoV/LoZ function preventing false readings caused by ghost voltage, the Fluke 117 Electrician's Multimeter is the ideal multimeter for electricians. In fact, users around the world have said their 117 is an investment in accuracy. The Fluke 117 provides Min/Max/Average readings, measuring frequency and capacitance. With its easy-to-use design, the Fluke 117 will save you time, allowing you to move from job to job with ease.
Engineered and Tested with Your Safety on the Job in Mind
We test our 117 Multimeters for safe use in CAT III 600 V environments. This is the ideal meter for your electrical work because:
The large white LED backlight helps you work in poorly lit areas
VoltAlertTM technology gives you fact, go/no go non-contact voltage detection
AutoVolt and Low Input Impedance modes provide faster, more accurate readings
VoltAlert™ technology for non-contact voltage detection
AutoVolt automatic AC/DC voltage selection
Low input impedance: helps prevent false readings due to ghost voltage
Large white LED backlight to work in poorly lit areas
True RMS for accurate measurements on non-linear loads
Measures 10 A (20 A overload for 30-seconds)
Resistance, continuity, frequency and capacitance
Min/Max/Average with elapsed time to record signal fluctuations
Compact ergonomic design for one-handed operation
Compatible with optional magnetic hanger (ToolPak™) for hands free operation
CAT III 600 V safety rated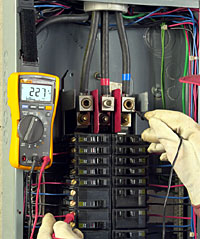 Digital Multimeters
| | |
| --- | --- |
| Model | Description |
| Fluke 87V | Industrial Multimeter |
| Fluke 83V | Average Responding Industrial Multimeter |
| Fluke 179 | True RMS Digital Multimeter |
| Fluke 175 | True RMS Digital Multimeter |
| Fluke 787 | ProcessMeterTM |
| Fluke PRV240 | Proving Unit |
| Fluke 177 | True RMS Digital Multimeter |
| Fluke 3000 FC Series | Wireless Multimeter |
| Fluke 233 | Remote Display Digital Multimeter |
| Fluke 289 | True-RMS Industrial Logging Multimeter |
| Fluke 287 | True-RMS Electronics Logging Multimeter |
| Fluke 117 | Fluke 117 Electrician's Digital Multimeter with Non-Contact Voltage |
| Fluke 116 | Digital Multimeter |
| Fluke 115 | Digital Multimeter |
| Fluke 114 | Digital Multimeter |
Contact us
Tel:+86 027-85880977
Email:
vicky@hkxytech.com