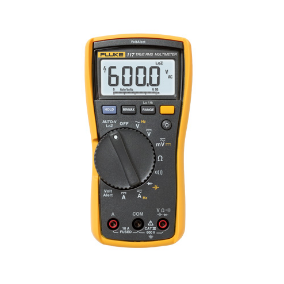 BASIC INFO
Fluke 116 Digital Multimeter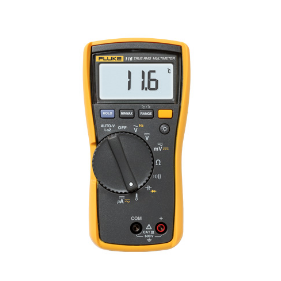 Includes:
4 mm silicone test lead set
80BK Integrated Temperature probe
Holster
Installed 9 V battery
User manual
With the ability to take temperature and microamp measurements, the Fluke 116 Digital Multimeter has everything you need to help you quickly troubleshoot problems with HVAC equipment and flame sensors. The Fluke 116 measures resistance, continuity, frequency and capacitance. Fluke 116 multimeters are independently tested for safe use in CAT III 600 V Environments.
Built-in thermometer for HVAC applications
Microamps to test flame sensors
Low input impedance: helps prevent false readings due to ghost voltage
Large white LED backlight to work in poorly lit areas
Resistance, continuity, frequency and capacitance
Min/Max/Average with elapsed time to record signal fluctuations
Compact ergonomic design for one-handed operation
Compatible with optional magnetic hanger (ToolPak™)
CAT III 600 V safety rated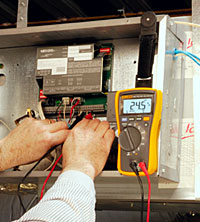 Digital Multimeters
| | |
| --- | --- |
| Model | Description |
| Fluke 87V | Industrial Multimeter |
| Fluke 83V | Average Responding Industrial Multimeter |
| Fluke 179 | True RMS Digital Multimeter |
| Fluke 175 | True RMS Digital Multimeter |
| Fluke 787 | ProcessMeterTM |
| Fluke PRV240 | Proving Unit |
| Fluke 177 | True RMS Digital Multimeter |
| Fluke 3000 FC Series | Wireless Multimeter |
| Fluke 233 | Remote Display Digital Multimeter |
| Fluke 289 | True-RMS Industrial Logging Multimeter |
| Fluke 287 | True-RMS Electronics Logging Multimeter |
| Fluke 117 | Fluke 117 Electrician's Digital Multimeter with Non-Contact Voltage |
| Fluke 116 | Digital Multimeter |
| Fluke 115 | Digital Multimeter |
| Fluke 114 | Digital Multimeter |
Contact us
Tel:+86 027-85880977
Email:
vicky@hkxytech.com