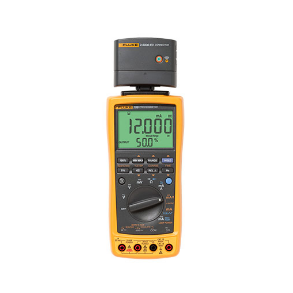 BASIC INFO
Fluke 789 ProcessMeter™
Fluke 789 loop calibration multimeter has a 24-Volt loop supply reducing the need for taking a separate power supply when doing offline transmitter testing.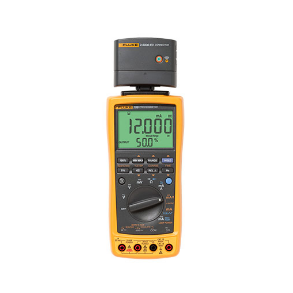 Includes:
AC175 Alligator Clips
Four (4) AA 1.5 V alkaline batteries (installed)
TL71 safety-designed test lead set
Features of the Fluke 789:
24 V Loop power supply
Very large dual display
Enhanced backlight with 2 brightness settings
1200 ohm drive capability on mA source
HART mode setting with loop power and a built-in 250 ohm resistor
0% and 100% buttons to toggle between 4 and 20 mA sourcing for a quick span check
Externally accessible fuses for easy replacement
Infrared-port to process data in FlukeView Forms (V2.1) software
Fluke 789 features that are also included in the Fluke 787:
Precision 1000 V, 440 mA True-RMS digital multimeter
0.1% dc voltage accuracy
0.05% dc current accuracy
Frequency measurement to 20 kHz
Min/Max/Average/Hold/Relative modes
Diode Test and Continuity Beeper
Simultaneous mA and % of scale readout
20 mA DC current source / loop calibrator / simulator
Manual Step (100%, 25%, Coarse, Fine) plus Auto Step and Auto Ramp
Externally accessible battery for easy battery changes
Now compatible with Fluke Connect™ App
The Fluke 789 ProcessMeter is the ultimate troubleshooting tool for electricians and instrumentation professionals, combining the functionality of a loop calibrator with the power of a digital multimeter. By equipping the 789 with a temperature measurement module and the wireless data logging capabilities of Fluke Connect™ with ShareLive™ video call (sold separately), process technicians can now do a lot more while carrying a lot less. And with its built-in, selectable 250 ohm HART® resistor, it eliminates the need to carry a separate resistor with you.
Fluke Connect is not available in all countries.
Safety conformance
Meets 1000 Volt EN61010-1 CAT III standards and 600 Volt EN61010-1 CAT IV standards.
Fluke Connect is not available in all countries.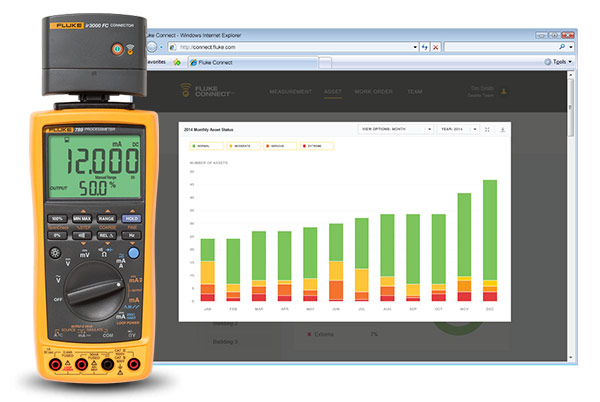 | | | |
| --- | --- | --- |
| Model | Item | Description |
| FLUKE-773CHN | 3456293 | MILLIAMP PROCESS CLAMP METER, CHINA |
| FLUKE-789 | 1633984 | PROCESSMETER |
| FLUKE-707 | 1617262 | LOOP CALIBRATOR |
| FLUKE-709H | 4234361 | FLUKE-709H,LOOP CALIBRATOR, W/ HART |
| FLUKE-787 | 619913 | PROCESSMETER |
| FLUKE-705 | 665091 | LOOP CALIBRATOR |
| FLUKE-709 | 4234350 | FLUKE-709,LOOP CALIBRATOR |
| FLUKE-712C | 4387878 | FLUKE-712C,RTD CALIBRATOR WITH LOOP POWER FOR CHINA MARKET |
| FLUKE-714C | 4387884 | FLUKE-714C,THERMOCOUPLE CALIBRATOR WITH LOOP POWER FOR CHINA MARKET |
| Fluke-719PRO 300G | 4353234 | FLUKE-719PRO-300G,ELECTRIC PRESSURE CALIBRATOR, 300 PSIG |
| FLUKE-700HTPK | 4124358 | HYDRAULIC TEST PUMP KIT, 0 TO 10000 PSI/700 BAR |
| FLUKE-750P06 | 4352349 | FLUKE-750P06,PRESSURE MODULE, 0 TO 100 (0 TO 7 BAR), (0 TO 700 KPA) |
| FLUKE-718 300G | 2547153 | PRESSURE CALIBRATOR 300 PSIG |
| Fluke-719PRO 150G | 4353229 | FLUKE-719PRO-150G,ELECTRIC PRESSURE CALIBRATOR, 150 PSIG |
Contact us
Tel:+86 027-85880977
Email:
vicky@hkxytech.com